For many families, TV cabinets become an essential item in the living area. Families often gather in front of the TV for their favourite programs or movies on a regular basis. With the rise of the flatscreen, TV cabinets have become more like long and slim sideboards than bulky corner pieces. TV stands are perfect for giving you a better viewing angle and adding plenty of space to store related items. Learn all you need to know about TV cabinets before you shop to ensure you make an informed decision.
---
What are TV Cabinets?
TV cabinets are the large pieces of furniture which are used to hold the TV and related accessories. TV units include cabinets, drawers and shelves for the TV signal box, gaming accessories and other important items. TV cabinets come in various sizes and are made from a variety of materials in order to match any household decor. Television cabinets are generally large in size and are not really recommended for small rooms as the size may take over space.
---
How to Pick a Right TV Cabinet?
Measuring Your Space
Before you purchase a TV cabinet, you should get a general idea of how much space is available for your TV. If the size of your TV is based on a diagonal measurement, you should take the measurement of your TV from corner to corner to determine what size cabinet you require. You should also make sure that you measure the depth of the TV to ensure that it fits on the mounts in the TV cabinet.
Next, you need to measure the room to determine how much space available to store your TV cabinet. To ensure your TV viewing experience is enjoyable, enough space should be allowed between the corners of the room and the TV cabinet. Ideally, the TV cabinet should be placed in the center of the wall with ample space on either side. You should also measure the height of your furniture to ensure the TV is placed at a comfortable viewing height which won't cause you to strain your neck.
Material
Wood and metal are generally the choices of TV cabinet materials. Wood TV cabinets add a more traditional, rustic style to a home, while metal TV cabinets work well in more modern homes. Woods used in TV cabinets include cherry, maple, oak, and mahogany, and the wide variety allows you to choose a wood which looks good and fits your budget. Metal TV cabinet often have a powder or chrome finish to enhance their appearance.
Function & Storage
What do you plan to store in your TV cabinet? If you prefer a minimalist design, consider putting the TV on top of a TV-bench stand. Avoid clutter by storing any entertainment – DVDs, video games, and their respective players – inside with the doors closed, or elsewhere. If you prefer drawers rather than cupboards or open shelves, you might find a dresser or low-to-the-ground chest of drawers fits your needs best.
Your entertainment area can be a one-stop shop if you have a wall unit. A design with many shelves, cupboards, and drawers will ensure there is a place to put everything from board games and books to your grip of chargers and cords.
Style
Select a TV stand which fits into your home's style and brings the room together, whether that's a bohemian TV cabinet, a modern TV cabinet, or another style entirely. For a classic appearance that never gets old, try a traditional TV cabinet made from durable hardwood. If you're going for a more modern feel, a TV cabinet with sharp, sleek lines is an excellent choice. Ideally, the TV cabinet should blend in with the room. Do not go for too bold options when you select a TV cabinet unless you want it to stand out.
---
TV Cabinet Reviews
TV Stand Entertainment Unit 2 Doors Wooden Storage Cabinet Furniture – White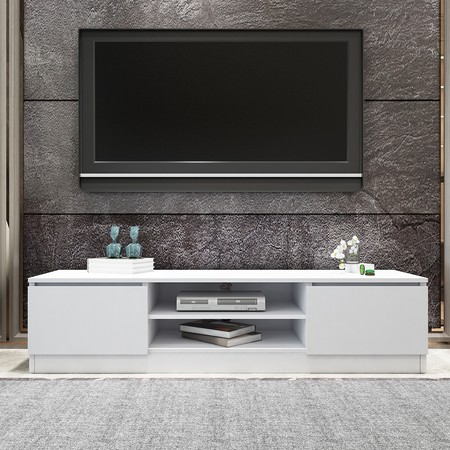 Size: 160cm x 39cm x 40cm
Price: $129.95
Built with a high-quality particle board with melamine construction, the TV cabinet will last long and blend in with your home decor. Featuring a generous space with two doors on each side, this white TV cabinet allows for organizing magazines, DVDs and other media accessories neatly. Set this modern TV stand in your living room with your smart entertainment units.
Modern TV Stand Cabinet Entertainment Unit Wooden Storage Shelf – White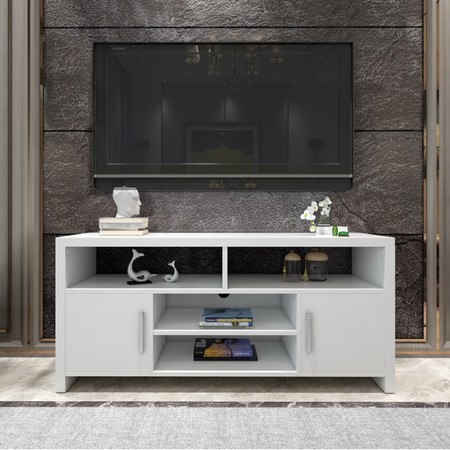 Size: 140cm x 39cm x 58.2cm
Price: $149.99
Designed with particle board and honeycomb chipboard with matt finishing, the TV cabinet is durable and sturdy. With two doors with storage space and three shelves for accessory storage. this TV stand is versatile and practical, ideal for parlors, living rooms for TV, and AV system.
TV Stand Entertainment Unit Lowline Cabinet Drawer – Black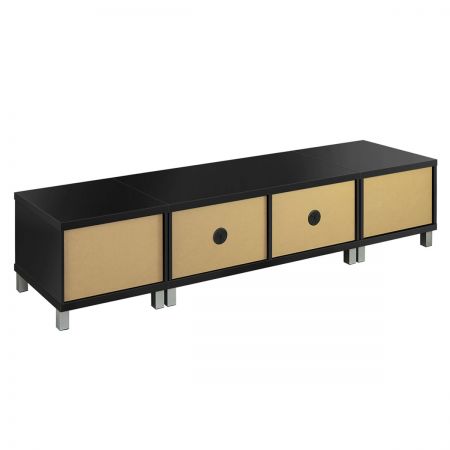 Size: 190cm x 50cm x 41.5cm
Price: $209.97
Excellent in quality and design, elegant square handles and legs with a well-finished construction features this homey TV stand. It provides great storage space with dividers and two independent side cabinets for your gaming consoles. Plus, the TV cabinet grommets keep wires and cords well organized.
Modern High Gloss TV Stand Cabinet – Black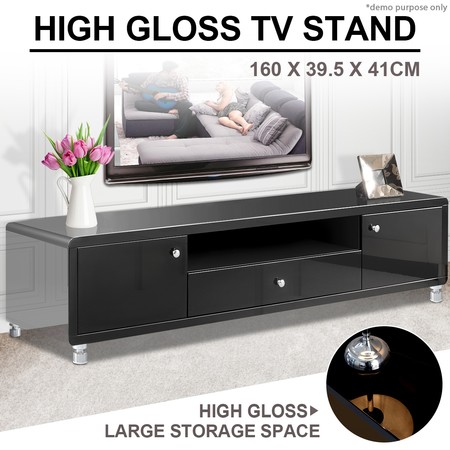 Size: 160cm x 39.5cm x 41cm
Price: $239.97
Featuring a stylish and modern design, this black TV cabinet is ideal for adding an elegant look to your lounge or living areas. Perfect for TV storage and display, this unit will organize televisions, DVD players, amplifiers, speakers, etc. With a single drawer, two doors for optimal storage, the stand is constructed from high-density MDF board.
---
Conclusion
Keeping all of these in mind, you should have no problem picking the perfect TV cabinet which will last for years to come. Time to show off your flatscreen while hiding any unsightly wires and media accessories with a stylish piece of furniture!