Pets need tender loving care, and pet owners can demonstrate their affection by providing their furry friends a few essentials like a warm pet bed, or a healthy, regulated diet.
However, the latter can be a little challenging to some families, especially when dog/cat parents have to work long hours or have frequent business trips. A fixed feeding routine can be disrupted by unexpected matters. Hence having an automatic dog feeder is a good solution to this hassle.
---
Types of Automatic Dog Feeder
There are two main types of automatic pet feeder with many variations on the same two basic themes:
Gravity pet feeders
The gravity pet feeder uses a simple dispenser mechanism which automatically makes pet food fall down into the bowl. As soon as the bowl is full, the dispenser will not be able to release any more food as the food will be backed up into the hopper, preventing further flow. It is the least sophisticated kind of automatic dog feeder which is usually cheaper, easier to maintain and also simple to use. With a gravity pet feeder, your dog/cat will never miss a meal. However, your dog/cat will have unrestricted access to dog food which can easily lead to overeating and obesity.
Electronic pet feeders
The electronic feeders are the most popular type of auto dog feeder because they allow you to control over exactly how much and when your dog/cat eats. You need to pre-program them with feeding times and measured portions, then the food is automatically dispensed accordingly at the exact times and quantities you have programmed, which can help prevent overeating and obesity. However, a low-quality dog feeder may have faulty programming which can cause your dog/cat missing a meal, being overfed or underfed. Plus, they are slightly more expensive than the gravity ones.
---
Factors to Consider an Automatic Dog Feeder
Safety – When choosing the right auto pet feeder for your dog or cat, you need to make sure the unit materials are non-toxic and safe. Also, the unit has to be shatterproof in case your pet gets so excited while eating that he/she knocks over the feeder.
Capacity – The capacity refers to how much food can be stored and distributed by the automatic feeder. Most automatic dog/cat feeders can hold up to 10L in their storage, which can be easily distributed to the dog bowls. Make sure the quantity you set to dispense does not overflow the bowl.
Types of food allowed – Many pet feeders are usually meant for use with dry dog food, some feeders may also be used with wet food. In addition to that, some may also be filled up with ice packs to keep perishable dog/cat food as fresh as possible when not being consumed yet. In some cases, some automatic cat feeders don't allow big kibble as it might get stuck and jam in the feeder.
Timer and feeding modes – Auto cat feeders have a manual feeding mode so that you can choose when to feed your cat. This is ideal for pet parents who want to give their cat/dog some time for light snacks. High-End automatic dog feeders allow you to set varying schedules per day.
Cleaning and maintenance – Regular cleaning and maintenance are crucial to prevent the development of bacteria, especially when moist dog/cat food is stored inside the feeder. The parts of your cat feeder should be easy to disassemble and washable.
---
Automatic Dog Feeder Reviews
2 Auto Dog Cat Bird Rabbit Guinea Pigs Feeder & Water Dispenser Set – Blue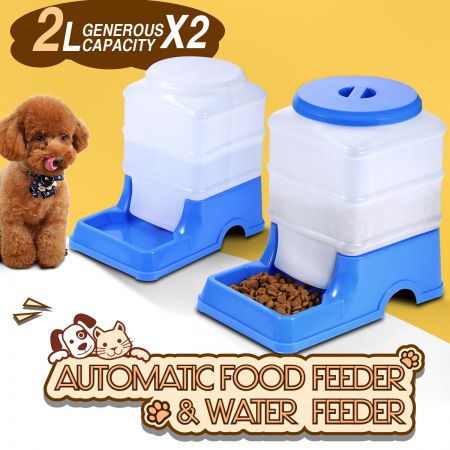 Pricing ~ $29. 98
Features
✔ A top seller in automated feeders
✔ Provides fresh food to your pet automatically whenever
✔ Non-toxic, durable plastic and removable bowl
✔ Food & water dispenser set
✔ Suitable for different types of pets
This wonderful 2 pack of auto pet feeders can be used as a dry food feeder and a water bowl, allowing your pet to eat and drink simultaneously and easily. The 2L capacity ensures ample food storage to avoid food shortage when you are away from home. With it, you can store food and water safely without being contaminated and wasted.
5-Meal Auto Pet Feeder Dog/Cat Bowl Automatic Food Dispenser with LCD Display 1.2L – Pink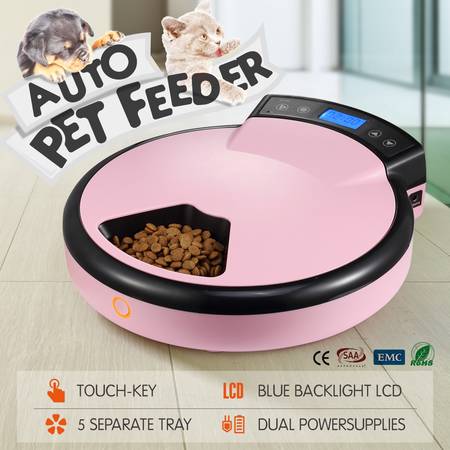 Pricing ~ $39. 88
Features
✔ 24-hour feeding time setting & 10-second voice recording
✔ Touch-controlled panel & LCD display
✔ Dual power supply system & low battery indicator
✔ Memory function & built-in distribution alarm
✔ Suitable for dry & semi-wet food
The auto pet feeder includes a detachable food tray which has 5 separate compartments for dry and semi-wet food for your dog or cat. Each compartment holds up 240ml food to help control your pet's food intake and keep it fit. You are able to preset feeding time and record a personal voice message for your pet to hear. When time is up, the tray rotates and the distribution alarm rings.
5.5L Programmable Automatic Pet Dog Cat Feeder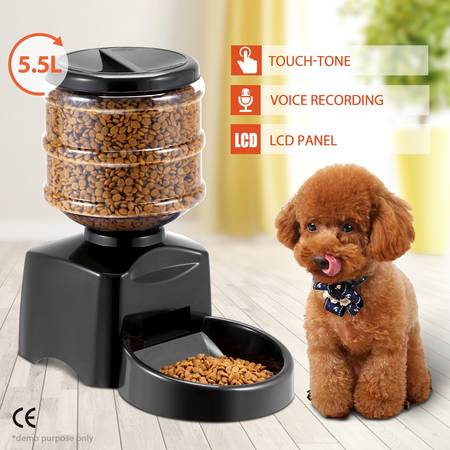 Pricing ~ $59. 88
Features
✔ LCD panel to display the current time, meals programmed, and portion size.
✔ 10-second voice recording to call the pet at the mealtime
✔ Handles any range of dry food size up to range 15m diameter
✔ Suitable for dry food only
Create a homely atmosphere for your pet with this automatic feeder. The hopper is used ABS plastic materials, resistance to heat and easily cleaned with warm soapy water and a cloth. The recordable voice recall helps you to call your pet when it is meal time. Even when you are away, you can feed on time, track and manage your pet's meal every day.
Automatic Pet Feeder with Recordable Message and Built-In Microphone – Black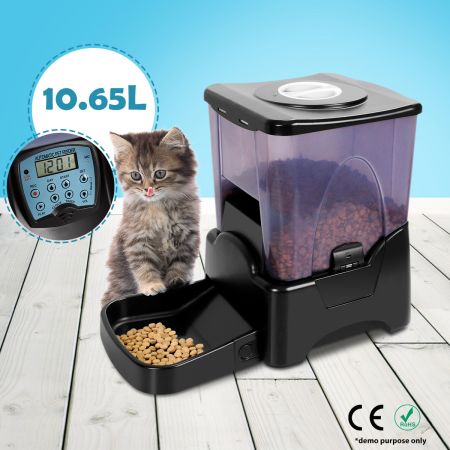 Pricing ~ $69. 98
Features
✔ Programmable feeding times & record a personal message
✔ Anti-jamming feature & portion-controlled meals
✔ Built-in microphone and speaker & Digital program display
✔ Removable components
✔ Suitable for dry food only
This useful programmable feeder with a message system ensures your pet is always fed at the right time, you don't have to worry if it is hungry when you aren't at home. Manage your dog's diet by setting the timer in advance before you leave. You can even record your own voice to call your pet.
6L Automatic Dog Feeder Timed Auto Pet Cat Food Dispenser w/Voice Recorder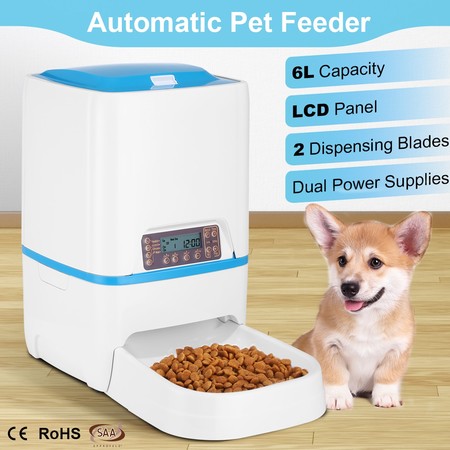 Pricing ~ $99. 95
Features
✔ Digital timer & low power consumption
✔ Anti-jamming feature & portion-controlled meals
✔ Built-in voice recorder and speaker
✔ LCD panel & built-in infrared detection
✔ Dry food only
Generous 6L capacity with digital timer programs up to 4 meals for your pet a day. Designed with a flexible and programmable food model dispenser, the auto cat feeder allows to schedule the proper amount of each meal, controlling the weight of your pets and fostering their healthy dietary habits.
---
Conclusion
Finding the best automatic dog feeder can be a breeze if you follow the above guidelines. With an automatic feeder, you can establish accurate proportions of food which is dispensed at specific intervals. Plus, it is ideal for weight control or managing conditions such as diabetes or hypoglycemia. You no longer have to fret whether your pet is famished or overindulging himself.