Whether you're a keen cyclist looking to train during the colder months, or simply a beginner looking for an effective way to get fit at home, an exercise bike is an excellent device. It is generally cheaper and smaller than other home cardio machines, and provides scope for all kinds of cardiovascular workouts. You don't need to break the bank to get an excellent exercise bike, but should work out exactly what you're looking for before making a purchase.
---
Different Types of Exercise Bikes
There are several kinds of stationary bikes, but the main ones are upright and recumbent. Upright bikes are designed like a typical road bike while the recumbent ones use a different position with the pedals located in front you. Both types of indoor exercise bikes have their own benefits.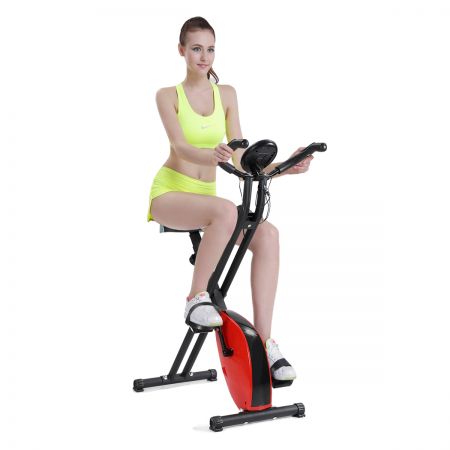 Upright Bikes
This is most like a traditional outdoor bike. you sit with your body directly above the pedals, slightly leaning forward, bending at your neck and back. The seat is just like a road or mountain bike. Upright exercise bikes take up less space than recumbent bikes, so if you do not have a big room to exercise in, this is the better choice.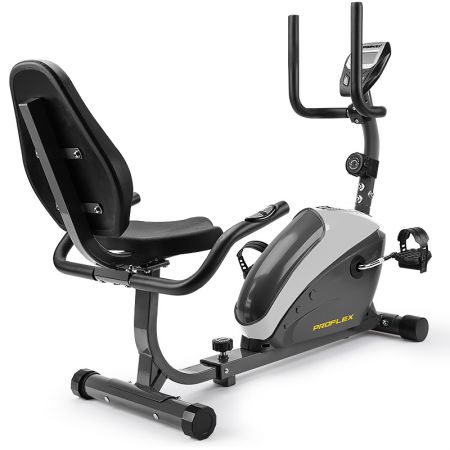 Recumbent Bikes
Your body is more supported on a recumbent exercise bike.You sit in a reclined position with the pedals in front you, so you will probably find this more comfortable than an upright bike. It is a great solution if you don't have good balance or if you suffer from backache.
---
Must-Have Features
▶ Look for a clear display with easy-to-use controls. A good stationary bicycle will show some combination of your heart rate, calories burned, speed, revolutions per minute(RPM), resistance levels, and details such as time and distance
▶ Consider fitness bikes with programs which allow you to adjust routines based on your fitness level and have heart-rate-controlled workouts which consider your age, weight and gender
▶ Indoor bicycles with a chest strap are the best and they do not impede your movement. There are contact monitors and stand-alone heart-rate monitors available. The former measures your heart rate only when you're touching them, which can be inconvenient
▶ Look for a bike machine which is easy to adjust and has a variety of exercise bike workout levels. Many exercise bikes can be adjusted electronically by using the resistance controls
▶ Gym bikes have many moving parts and can be hazardous, so use it with the directions. Make sure your exercise bike is locked and out of children's reach. Make sure children are kept away from your bike while it is in use.
---
Our Top Rated Exercise Bikes
Image
Product
Folding Exercise Bike with Electric Monitor
Genki Magnetic Exercise Bike-5kg Flywheel
Genki Upright Magnetic Bicycle Bike Fitness Exercise Gym
Magnetic Recumbent Exercise Bike EXB1
Pricing
$149.95
$199.95
$219.95
$319.96
Resistance
8 Levels of Magnetic Resistance
8 Levels of Magnetic Resistance
8 Levels of Magnetic Resistance
8 Levels of Magnetic Resistance
Weighted Flywheel
2.5KG
5KG
6KG
9KG
Max. User Weight
100KG
120KG
110KG
120KG
Electric Monitor/LCD Computer Display
Scan/Time/Pulse/
Speed/Distance/
ODO/Calories
Scan/Speed/Time/
Distance/Calories/
ODO/Pulse
Scan/Time/
Speed/Distance/
Calories/Body Fat/Heart Rate
Time/Speed/
Distance/Calories/
Heart Rate/Scan/
ODO
Adjustable Padded Seat

75CM-85CM

7-Level Adjustable Height
7-Level Adjustable Height
118CM-143CM

Features
Non-Skid Foot Pedals, Safety Strap
Padded Seat, Non-Skid Foot Pedals, Foam Covered Handle Bars
Non-Skid Foot Pedals, Foam Covered Handle Bars, Ajustable Armrest
Padded Seat, Adjustable Foot Straps, Rubber-Clad Pole Grips,
---
Conclusion
Exercise bikes, whether upright or recumbent, are an excellent piece of gym equipment. It gives you a highly effective cardio workout which can be built up over time and varied between sessions. If you are a rowing exercise enthusiast and want to have rowing training at home, you can click The Best Rowing Machine Reviews 2018 for reference.