A sewing machine is an access to creativity and self-sufficiency, whether you want to mend tears, hem long pants, or need to DIY a costume for Halloween. It helps you get rid of the awkwardness of not finding the right outfit or the match curtain, if you've had the sewing skills to make your own clothing. However, sewing machines Australia on the market have become more and more easily-operated and user-friendly. That means fewer sewing skills are less required if you have a multifunctional embroidery machine that can bring hands-off stitches to you.
For those who're confused about choosing which sewing machine brand, here is a detailed product review with comparisons between our brand Carina, and another well-known Brother sewing machine GS2500. This sewing machine review is going to compare the two brands on speed, patterns, stitch control and some other concern-raised factors.
Carina VS Brother Sewing Machine Comparison
| Picture | | |
| --- | --- | --- |
| Product Name | CARINA 32-Pattern Mini Sewing Machine | Brother GS2500 Sewing Machine |
| Price | $99.99 | $279.00 |
| Sewing Speed | About 1,200 spm | 800 spm |
| Stitch Patterns | 32 | 25 |
| Buttonhole Style | 4 step | 4 step |
| Stitch Length Control | Yes | Yes |
| Stitch Width Control | Yes | No |
| Maximum Stitch Length | 4mm | 4mm |
| Maximum Stitch Width | 5mm | |
| Thread Tension Control | Yes | Yes |
| Easy Bobbin Setting | Yes | Yes |
| Free Arm Style | Yes | Yes |
| Bonus Accessories | 21 Bonus Accessories | An Instructional DVD |
Price Level
The investment of a sewing machine is a consideration-required issue for most families and individuals who don't regard sewing as a job. Budget must be listed into their consideration firstly. Carina Sewing Machine is priced reasonably at $99.99, with similar functions and configurations with Brother sewing machine GS2500, which is at the price of about $279.
Sewing Speed
Sewing speed must be one of an essential issue to test a sewing machine. Although higher velocity doesn't indicate the result of perfect project, at least 750 spm is required for a strong and powerful sewing device. Obviously both Carina and Brother sewing machines can reach the basic standard. Carina processes sewing speed of about 1,200 spm, which is 400 spm higher than Brother, 800 spm.
Stitch Patterns
The number of stitch pattern in a sewing machine can allow for more elaborate and creative stitching, which can add more decorative or unique elements on your project. Hence the stitch pattern plays an important role on sewing capabilities. Brother GS2500 is a 25-pattern device that fits most people's basic sewing needs, while our Carina sewing machine is able to offer 32 various stitching patterns to all ingenious DIYers.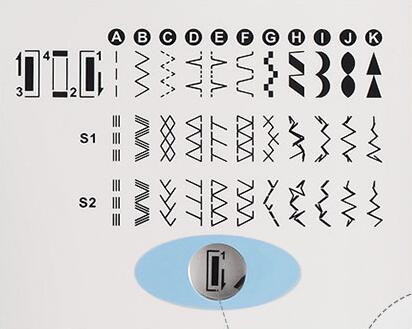 Buttonhole Sewing
If you plan to buy a sewing machine for making garments, buttonhole operation is important to you. Both Carina and Brother sewing machines adopt 4-step buttonhole style. It means they both require four operations on the machine from you during button sewing.
Stitch Control
Adjustable length and width of stitches can not only add style to your project, but also allow you to adjust them to fit different fabrics. Compared to Brother sewing machine GS2500, our Carina has adjustable stitch width function, while there's only stitch length control on Brother GS2500.
Free Arm Style
A compact, lightweight sewing machine makes it a breeze to held in hand and move around the house. And the free arm style can add more convenience to the operation and portability. Whether you plan to buy Carina or Brother sewing machine, their free-arm style enables you to pick up and use at ease.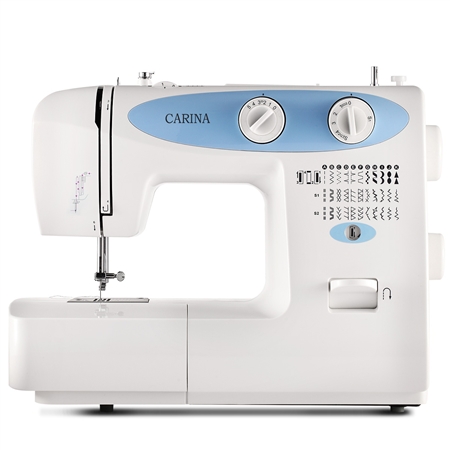 In a conclusion, Carina Sewing Machine is a perfect sewing model for most basic and special sewing projects, and those who have less budget on a sewing machine, while Brother Sewing Machine requires richer sewing skills to operate. After browsing this sewing machine review, you have no excuse to miss our sewing machine sale at CrazySales now!
If you're keen on creating sewing projects by yourself, you can check our sewing DIY tips:Easy DIY Projects to Sew in Under 10 Minutes You Should Try