It is an every year dilemma of what gift to our family. When Christmas season start to come along we are always thinking of an idea of what to give that they will surely love. Actually the real key on how to give a gift that your love ones will appreciate is something that comes to your heart. Simple things like cards saying all the things that you want to say, letting them know how grateful you are for having them as your family. But how about giving them a card to express your love and giving them a gift that you know they will love. Something that they will appreciate and that they will use for and remember you.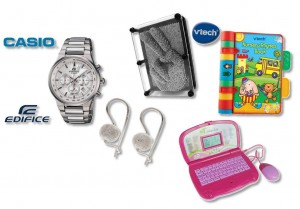 For your Hubby, a watch will be a great gift. Since men love watches because they are always busy and in a hurry. A watch also can symbolized that you are giving him your time as much as you can. You can choose the design that you think your husband will love. You can check Men's Watches at CrazySales website.
For your Wife, most of the girls love jewellery. It completes the outcome of their entire attire. The jewellery that they want to use depends on their mood for the day, so choose the one that you think will fit on her personality. Choose the design that you think will help the real beauty of your wife to come out? How about an elegant Earring for this year? Earring really help your wife to be more glowing. It is not a complete attire if women don't have earrings.
For your little boy, this 3D Metal pin art game is perfect for him. This will exercise his mental ability and enjoys at the same time. Let him create different images using his own little hands. There are many toys for boys on CrazySales website. You can visit it to look for toys that will fit your child's personality.
For your little girls, a children's laptop will be a great gift. This is not just a toy, this is an educational toy with 80 educational function. Learning has never been this fun. Of course girls has a lot of choices when it come to toys, you are the one who can only tell what your child wants. Here are some more choices for your little girls toys.
For your little baby, little baby do not appreciate their things yet. Since they only appreciate their milk and the love of his family and this is the most important. But as the child develops their brain they need something that will help them in the development of their brains. Studies have shown that toys that is very interactive and has a sound helps the child in their brain development. I think this hi-tech nursery rhyme book is perfect for him. This is a very interactive toy and very enjoyable fir them to play. Many choices of baby toys and stuff is available on CrazySales website.
This are just tip to help you decide and guide you on what to give to your love ones. It will all end on your decision. No one knows your family than you do, so you will be the one to know what will be the perfect gift for them more that anyone else. What is important that it comes from the heart with your love. You can visit CrazySales for more products that you will surely love.