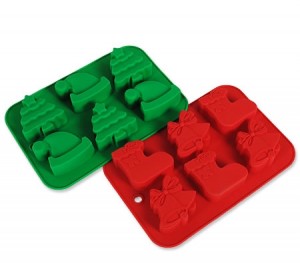 This jelly recipe that is very easy, festive, refreshing to look at and eat. This is just perfect for Christmas gathering or party.
Christmas Jelly Recipe Ingredients:
3 tablespoons (3 envelopes) unflavoured gelatine powder
2 cups cold water
1 cup sugar
1 1/2 cups cold champagne (you can omit this if this is for kids)
1 1/2 cups cold ginger ale
1 cup sliced fresh strawberries
Christmas Design Silicone Baking Tray
Instructions:
In a saucepan, sprinkle the gelatine evenly over the cold water and allow the gelatine to absorb the water for 2 minutes.
Bring the water to a boil over high heat and stir until the gelatine is fully dissolved.
Remove from the heat.
Transfer the gelatine mixture to a bowl, add the sugar, and stir until dissolved.
Stir in the champagne and ginger ale.
Refrigerate until thickened.
Fold in the strawberries and spoon into 7 to 10 into Christmas Design Silicone Baking Tray for a Christmas effect.
Refrigerate until firm.
Unmold and serve.
Now you have a festive dessert that is very presentable for your guest. Of course your party is not complete without Christmas decors and gift, so here's the tip check CrazySales and you will find amazing Christmas products and deals.