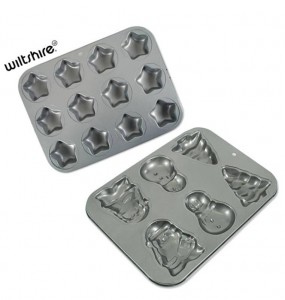 Surprise you family with home made muffin specially made with love for them. This is good to eat during breakfast with hot chocolate or milk. This is also very easy to make. Don't just make it an ordinary muffin make it special, you can use Christmas Muffin tray with a very awesome design. The taste and the look of your Muffin will be such a hit!
Ingredients:
½ cup margarine
1 cup sugar2 eggs
1 cup mashed ripe bananas (no more than 1 cup)
1½ cups flour
1 tsp cinnamon
1 tsp baking soda, dissolved in 2 tsp hot water
1 tsp vanilla
Nutella
Instructions:
Cream together margarine and sugar.
Add eggs one at a time, then mashed bananas.
Add baking soda/water mix and the vanilla, then combine.
Mix flour and cinnamon in a separate bowl, then add to banana mix and combine.
Fill your Christmas muffin tray about a ¼ full, then add about a teaspoon of Nutella into the centre.
Top off the muffin cup with more batter, to make the muffin cups about ½ full in total.
Bake for 15-20 minutes in a 350 degree oven.
You can add whipping cream on top to add a snow effect, you can also use a dash of confectioners sugar or candy sprinkles. Make it look more festive and have it with the drink of your choice. You can also browse CrazySales for exciting deals and products.