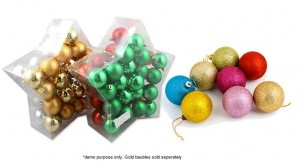 Christmas baubles on your tree. You may have it as shiny, textured or even glittered. But what if you only have one design for all your baubles? You can add glamour to that by just adding glitters to it.
All you need to do is combine water and glue with the right consistency, not too watery not too dense, spread it evenly in your Christmas Buables. Before the glue dries up add the glitters all over the baubles. You can also do variety on it, you can spread the glue only on the part of the baubles where you want to have it glittered. For example, spread the glue only at the bottom part of part of the bauble then add glitters, by this way you will have your baubles half glittered. Use your imaginative mind to create your own designs, like different colours of glitters in one baubles is also great.
If you have glass baubles there is another way to make it more beautiful. For your glass baubles all you need to do is Add a little of floor cleaner inside the Glass ornaments. Swirl it around until it covers the entire glass. (*do not shake because it will create a bubble) Pour out excess floor cleaner.Pour glitters inside the glass and shake so the glitter will spread evenly to the glass. Pour out the excess glitters so that you can use it again. It will also be great f you have other glass ornaments like fish bowls, wine glasses, Jars or any thing that is glass that you can also use for decorating.
Easy tips for you this coming Christmas, hope that you can use this at your home. You can visit CrazySales for more exciting promos and products.