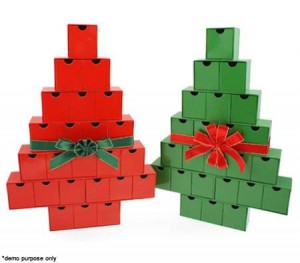 An Advent Calendar is not new to us. But what will make it new is the surprise inside it everyday. Make it interesting everyday and you can add some suspense to it.
Things that you will put on each date will depend on your child's wants and likes. You can always play around with the items that you will put in, but for now this is just to give you some ideas.
First of all you will require an boxed Advent Calendar (this is where you will place your surprises). We will start on Day 1 up to day 25. Your gifts should be interesting each and everyday, that will bring excitement everyday. The 25th day should be a really special surprise. It should be unique and the very wish of your child. Let us divide the days and have a theme on each part.
Day 1 to 6 "Spoil their sweet tooth"
Every child loves sweets, it makes them happy and smile after a bad day or simple
Day 1: Small treats will do like candies or lollipops.
Day 2: Freddo Frogs or Caramello Koalas
Day 3: Notes for a treasure hunt and bury a jar with treat in the garden
Day 4: Mini cupcakes that you make
Day 5: Make a note and say: "That Ice cream in the fridge is yours" (Since you cannot put the ice cream in the box)
Day 6: Dried fruit sticks
Day 7 to 12 "Artsy Fartsy theme"
Develop their talent in creativity at their early age.
Day 7: Drawing Machine, this will enhance their creativity.
Day 8: Glow Crazy, this is a drawing materials that is glow in the dark. This is a more exciting way to draw, especially on dark.
Day 9: Magic Drawing Screen, this is a timeless way to enjoy art.
Day 10: Doodle Bear, this will let your child explore and express their art side.
Day 11: Air Tattoo Box, your child might be the next big tattoo artist in the world. With this toy creativity of your child will sharpen and improve.
Day 12: Complete Art Box Set, since this gift is too big for the box for a day, you can put 1 pen & a note in a box saying "Your Art Box set is in the bedroom, you can now get it"
Day 13 to 18 "Quality Time"
Time is the best and the cheapest gift that you can give to your child.
Day 13: Give them a cinema ticket, watch movie with the whole family
Day 14: Their baby Christmas picture to reminisce his toddler years, and you can also tell a story behind that picture.
Day 15: Their favourite book that he can read before sleeping, or might as well read it to him.
Day 16: Their favourite show in DVD and let him watch it during the Christmas break.
Day 17: Soothing and relaxing lotion or fragrance that will help him to fall asleep easier.
Day 18: A note saying that you will be going to the park and play.
Day 19 to 24 "Toys toys for your Child"
These toys are not just toys but educational toys that your child will enjoy at the same time learn from it.
Day 19: Sand Castle Toy Set
Day 20: Walkie Talkie toy that can be enjoyed with friends.
Day 21: Angry Bird small stuff toy, just hang it around the room.
Day 22: Maze Puzzle Ball, this is a challenging way to sharpen your mind.
Day 23: Puzzle, this is a classic toy that can be still enjoyed in this modern time.
Day 24: Money Maze, this will never let you to be bored but the urge of solving the maze will give you a motivation to finish the maze.
And last but not the least, the most important gift. The Day 25 gift should be very special and make sure that your child will love this.
Day 25: Remote Control Car, all little boys even little boys at heart love RC Cars. Since this toy is too big for the box, you can just put the remote control on the box and let him find where the car is own his own. This will give him more excitement on Christmas Day.
Hope that this tips will help you have some ideas for your advent calendar. You can find more great products on this on our site CrazySales.