It's the EOFY and CrazySales is coming at you hard with the largest online discounts in Australia. Here's a rundown of some of the biggest discounts.
---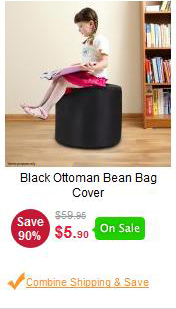 Ok, this isn't even Crazy, it's just insane. Who doesn't love a bean bag seat? And can you say DISCOUNT? $5.90??? Whhhaaaat? That might buy the biggest smile that $5.90 has ever bought before. This bean bag cover is suitable for both indoors and out, and makes a fashionable addition to any lounge, living room or family room. Made with durable polyester oxford cloth with a water-resistant PVC coating, and with a convenient handle, this bean bag ottoman cover offers a stylish & comfortable design for your bean bag ottoman regardless of where you want to take it! Designed to fully fit an adult-sized one-seater bean bag ottoman, this cover's classic black colour makes a sophisticated statement in any room and is a fun way to add some flair to your home's decor. With this bean bag cover, sitting around the house just got a little more refined!
---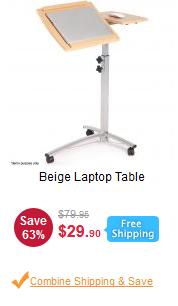 While you're sitting around on your awesome new bean bag chair, break out your computer and get some work done on this modern portable laptop table. This adjustable laptop table is easily portable, and features fully-lockable castor wheels for optimal manoeuvrability and stability. With the tilting tray table, you can finalize your documents, wrap up your homework or send off your emails in comfort. With a wide range of adjustable heights, this laptop table is a perfect fit for all members of the family. Featuring a sleek design and stylish red walnut, the table will make an ideal furniture upgrade for the home office, den or living room. With a laptop table such as this, comfort is part of the design!
Also available in Black and Red Walnut colours!
---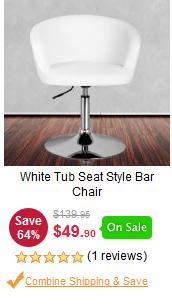 If beanbag seats are not your thing, them maybe you'll prefer this White Tub Seat Style Bar Chair. This modern chair gives you the comfort of a lounge chair and bar stool in one. Featuring a hydraulic lift and a full 360 degree swivel you can position this comfortable leather armchair to any position you need. Have meals, relax in front of the Telly or entertain your friends with this lightweight chair. Equipped with a steady chrome base this chair is sure to add style and comfort to any décor.
Features: