Decorating the entire house including the garden is one of the most exciting part of preparing for Christmas Season. Many decorations are now on sale in the market, but how we sure we are that it is safe to use outdoor? In our garden for example. It is important for us to but products that will fit our needs and requirements. Designing your garden needs more caution because of the instances that it will be exposed on sun light and rains. Make sure that your decorations is outdoor friendly.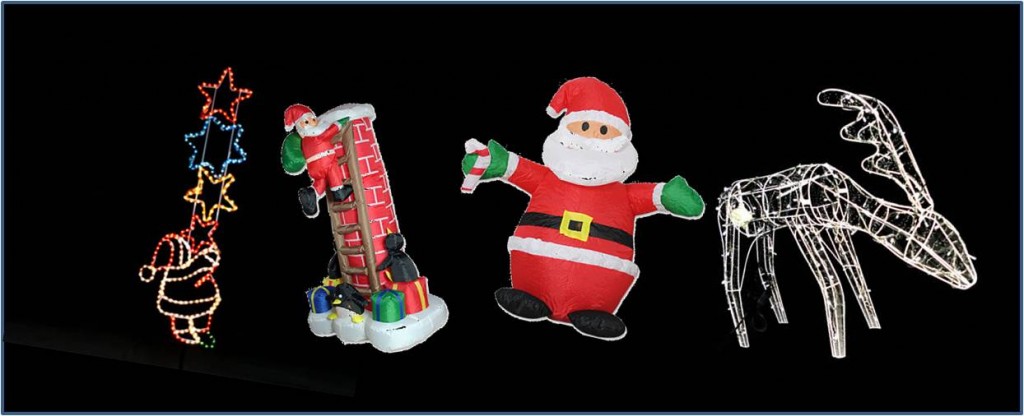 If you want a decoration that give glow to your home at night these Santa Christmas Light and Reindeer Christmas Light which is specially made for out door use. The glow of this lights is for you to have a happy atmosphere to your home. This is perfect if you want to have this light at night, they glow awesomely during night time. People who will see this will be relaxed and happy because of the beautiful light. You can put the Reindeer Light on the side of your main door to welcome your guest. Since Santa Christmas light should be hang, you may hang in on the window of your room so that it may look like that Santa is coming up to your window for your gift.
If you want to use your decoration on day and night these inflatable Santa Decoration and inflatable Santa climbing chimney is just for you. These decoration is specially made for outdoor and indoor use. It has a vibrant colour that will give you a good mood during the day and a fabulous light at night. You can put these decor where ever you want because it is made considering your safeness. These is easy to keep and to use again because it is inflatable.
There are many more safe and beautiful Christmas decor at CrazySales you can check it now and enjoy exciting promos and deals.