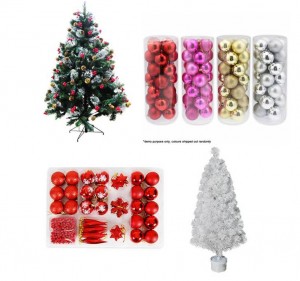 It is good to have different theme for your Christmas Tree every year. There are variants of Christmas tree available in the market there are real Christmas tree or artificial Christmas tree. Whether it is artificial or real what matter is how you decorate it. We'll be giving you a theme idea that you can do at home or improve it more.
Step 1: Choose a Christmas tree that will fit your style, your home and your preference.
Step 2: Things that you need to consider is the size and height of the tree. It will depend on where you will put it. If you will put it on a place wherein there is a big space and you want it to be an attraction to your home big Christmas tree will be just perfect for you. If you decide to put it on your room, you need a medium size Christmas tree so that it will not consume so many space. If you want to put it on top of a table, a small Christmas tree is what you need.
Step 3: Choose the colour of your tree. Nowadays many colour of the tree is available, it is available in green, black, white and many more.
Step 4: Choose a theme colour or design for your Christmas tree. You can choose 3 colours and combine them together.
Example:
Silver, Blue and Purple.
Gold, Red and Orange.
Black, Silver and Red is a playful unique combination.
Red and Green which is an all time favourite combination since then.
You can also combine many different colours it really works well or just combine any colour that you want.
Step 5: When you already have a theme for your tree you can now choose decorations like Christmas baubles, Christmas lights and other Christmas ornaments.
Many Christmas decorations and deals here at CrazySales!