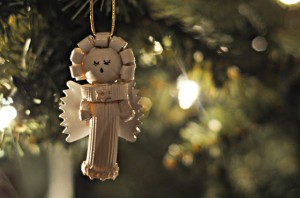 Amazingly with a very wild imagination you can make your pasta noodles is not just for spaghetti but can be also be used as your Christmas tree ornament. This is cooler than what you can imagine. This is also a cheap way to have a gorgeous Christmas tree ornament.
Materials that you need:
Pasta Noodles
*Wagon Wheels Pasta
*Tube Pasta
*Elbow Pasta
*Bowtie Pasta
*Stelline Pasta
Round Bead
Glue
White Paint
Instructions:
How the pasta noodles will be used.
*Wagon wheels – colar of the angel
*Tube Pasta – Body/Dress of the angel
*Elbow Pasta – Arms of the Angel
*Stelline Pasta – Curly Hair of the pasta
*Bowties Pasta – Wings of the angel
Glue the Wagon wheel on top of the tube.
Add the round bead on top of the wagon wheel, this will serve as the head.
Glue the bowtie on the tube underneath the wagon wheel.
Glue the elbow underneath the wagon wheel as the arm.
Glue the stelline on the bead to be its hair.
Paint it with white, gold, silver or any colour that you want, let it dry.
Using a pen draw an eyes and lips to the angels face.
You can add a string on top so that you can hang it on your Christmas Tree.
Make many pieces of this, you can make an angel theme for this Christmas season. You can also draw different faces for your angels for variety. For more Christmas product and exciting deals you can visit the website of CrazySales.