If you are reading this blog then you are most certainly a dog lover, or at the very least curious to how our furry friends live. If you own a dog chances are you love them very much. When we love something or someone we tend to pamper them. For machines we tend to maintain them meticulously, for people we buy them food and other things that make them happy. The same tends to apply to dogs as well. We buy them expensive dog food or treats to make them happy. There are some toys and other things that we buy for them to have fun with.
Today let's talk about dog beds, there are different types of dog beds that can make your furry friends happy.
Soft Round Faux Suede Medium M Pet Bed with Paw Print Design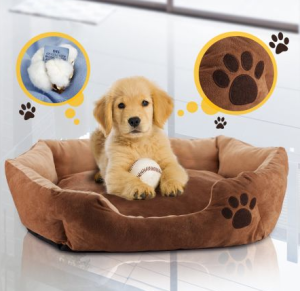 This particular type of dog bed will keep your dogs warm and snuggly. The cushion is made from ultra soft faux suede fabric. Add this item to your house and keep the dog out of the bed, furniture and cold floor. The size of the bed is large enough to accommodate big cats and dogs. This lovely bed is hand washable making it easy to clean. Show your love to your pets, give your furry pets the comfort they crave.
Luxurious 50cm x 50cm Heated Pet Pad Mat with Thermal Protection & Temperature Display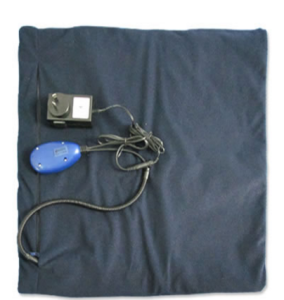 Does your dog whimper during the cold nights? Well pamper your dog with this heated bedding pad, put it under your dog's bed to keep them comfortable. Say goodbye to the whimpering during cold nights. This bedding pad will keep them warm through the night. The controls are easy enough to use making it no hassle for the owner. Made from waterproof and dustproof material, it also comes with a removable cover making it easy to clean. Using this will keep your dogs or pets off your bed and furniture, giving you peace of mind.
Petlife Flectabed Q Quilted Heat Reflective Thermal Bed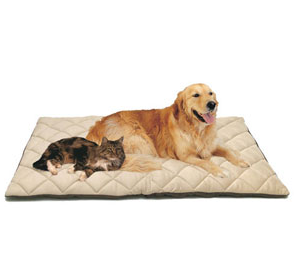 Give your dog comfort amidst a cold night. This reflective thermal bed by petlife is made with lightweight material that has two key elements of insulation.
Reflective surface
Reflects body heat back to your pet keeping them warm.
Trapping air
Uses multi layered fibers to trap air in fabric, warming up the bed.
This wonderful product is very helpful for those dogs suffering from arthritis, ill dogs or those who just want extra warmth. Machine washable with detachable covers for easy cleaning. Made for dogs and pets healthy or sick this one is a keeper.
Majestic Pet Products Orthopedic Dog Bed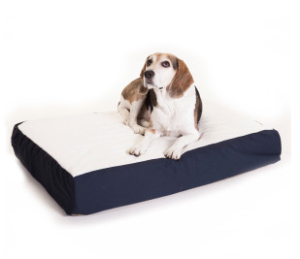 This little number is made with orthopedic grade thick convoluted foam, giving dogs proper circulation and support while their resting. The top is made of comfortable Faux Sheepskin, sides are made of poly cotton blend and the bottom is made with waterproof denier. It also comes with a removable cover making it easy to clean.
There are plenty more options out there to keep your dogs or pets comfortable. So choose one that will compliment your home and pet. Pamper your pets today.
.