EOFY Giveaway Terms and Conditions
How to Enter
To enter the "EOFY Giveaway" for a chance to win a Vibration Workout Platform Machine, you must like our page and share the EOFY Giveaway Post on Facebook.
Determining a Winner
Throughout the duration of the competition, the CrazySales Marketing Team will determine winners at its absolute discretion. If at any time CrazySales is of the opinion that the entrant has provided false details, or otherwise entered this competition fraudulently, CrazySales has the right to refuse the winning entry and has no obligation to provide reasons to the entrant for its decision for refusal. In the event that this occurs, CrazySales will redraw an alternative winner. Please see "Conditions of Entry" for competition commencement and closing dates.
Conditions of Entry
In order to be eligible for the competition, you must have completed the entry steps (see "How to Enter") before 12:00pm, Thursday, June 30th, 2016 (AEST). Entries received outside of these dates and times will not be eligible. Only one entry per person will be accepted.
Entry Exclusions
Entry is not open to the following:
Non-Australian residents
Patrons without an active Facebook account
Patrons under the age of 18
CrazySales directors, management, employees or their immediate family
CrazySales suppliers, associated companies and agencies.
Details and Values of Prize
Genki Vibration Workout Platform Machine Silver.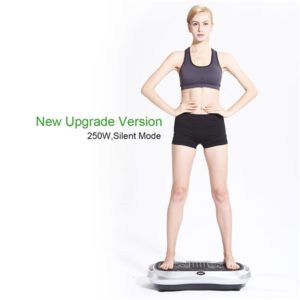 ( http://CrazySalesEofygiveaway/vibrationmachine )
How the Winner Will Be Notified
The winner will be notified by a new post on Facebook tagging their name in it, make sure you are allowed to be tagged. The winner will be asked to acknowledge receipt of the winning notification and send a private message to the CrazySales Facebook inbox providing further contact and residency details. If the winner acknowledges receipt of the winning notification, that person will be deemed the winner of the competition. If no response is received by that person within 24 hours of winning notification, it will be deemed as unclaimed and CrazySales will select an alternative winner from the remaining entries.
No Responsibility for Emails or Facebook Private Messages
CrazySales assumes no responsibility for any error, omission, interruption, deletion, defect, delay in operation or transmission, communications line failure, theft or destruction or unauthorised access to or alteration of any online competition entries, facebook private messenger or email communications.
Release
By entering this competition:
the entrant releases and holds harmless CrazySales and its related entities and Facebook from any liability, damages, losses or injury resulting in whole or in part from the entrant's participation in this competition;
the entrant acknowledges the competition is no way sponsored, endorsed or administered by, or associated with Facebook.
Privacy Policy
Handling Your Information
By entering this competition, you consent to your personal information being used by CrazySales for marketing purposes, including the publication of your name (including tagging) and competition entry details on social media pages and other publicly available information.