When cooking only for yourself, it's easy to get caught up in the easy, but mostly unhealthy practices of 'ready-made' meals. Next time you go shopping, stick to the outside of the supermarket and within the confines of the fresh produce, meat and dairy, rather than getting dragged into the ready-made-meal centre aisles. If you do find yourself being sucked into the middle isles…never go without a list! Pick up exactly what's on your list, and then get back to the healthier isles.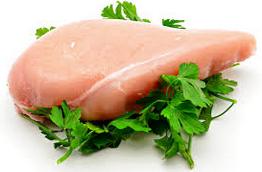 Also, a good idea would be to get friendly with your local butcher, — they'll hook you up and do things like sell you just one chicken breast so that you don't need to buy a package of 3 or 4. Knowing your butchers name is also a good idea because he'll be more likely to steer you away from a bad purchase.
---
Now turn that chicken into an amazing greek chicken burger with tzatziki sauce!
Ingredients
(Makes 2 burgers. You'll need one for later :))
Burgers Tzatziki Sauce
1/2 lb lean ground chicken

1/2 medium peeled or unpeeled cucumber
1/2 cup chopped fresh spinach

1/4 cup plain Greek yogurt (from 6-oz container)
1/4 cup chopped pitted kalamata olives

1 tablespoon chopped onion
1/2 tablespoon cornstarch

1 teaspoon chopped fresh mint
1/2 tablespoon chopped fresh oregano leaves
1 cloves garlic, chopped
1/4 teaspoon salt
1/4 teaspoon pepper
1/4 cup chopped fresh tomato

---

Directions

1. In medium bowl, mix all sauce ingredients. Cover; refrigerate until serving time.

2. Sprinkle both sides of chicken with salt and cinnamon. In 10-inch skillet, heat oil over medium-high heat. Cook chicken in oil 10 to 12 minutes, turning occasionally, until golden brown. Reduce heat to low; add water. Cover; cook 2 to 3 minutes longer or until juice of chicken is clear when center of thickest part is cut (165°F).

3. Serve chicken with yogurt sauce. Garnish with parsley.

---