Here's a treasure to behold: the early evening hours of a brisk autumn's eve. Summer has gone and autumn has come, but the joys of the evening have never been more ripe for pleasure. And in that spirit, grab some mates & hit the yard for a an early evening game of croquet! A croquet set like this is the perfect way to spend some time with friends and family while engaged in the friendly competition of half-jumping and dam-bustering!
The perfect set for a foursome, this set comes complete with mallets, balls & wicket hoops. For a fun lawn game, for a night of easy swinging and a few beers, for some friendly rivalries to get sorted, a game of croquet serves them all.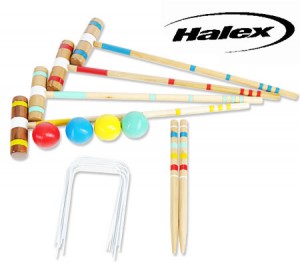 It's a game anyone can play and is a fantastic way to pass a few hours of family fun. Get some exercise, enhance your gift of the gab, learn the concentration and strategy involved by playing team or as individuals. Great for birthday parties and get-togethers too! Kids will love to learn the game while some of you adults will wander in the glowing nostalgia of games long past. Your yard is the canvas and your mallet is your brush – your sports masterpiece awaits!