Indulge your inner artist (but not the starving part) this weekend & let this Art Box Set be the way you do it. An all-in-one artist's kit like this has everything you need to enhance your days and to help channel your creative energies into a hobby that's fun, productive, and offers a sense of self-exploration.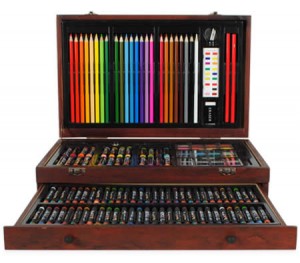 Whether for yourself, a friend, a grandparent or a child, an art set like this is a wonderful way to capture the world. With crayons, colour pencils, oil pastels, water colours, paint brushes, sketch pencils & other accessories, this set promises to have your medium!
The wooden art box is stylish, sturdy & convenient. Your art tools will always be handy and can easily come with you – to the yard, to the forest, to the beach, to the mountaintop, to the library, to the study, to the kitchen table! The box comes equipped with a handy artist's drawer for ample storage and, trust us, you'll fee like a full-fledged artist when you walk in carrying your case!
It's never too late to learn to draw or paint, and for those days when the world seems to be speaking a different language, there's no calmer way to remind yourself of who you are than with a paint brush. Or a coloured pencil. Or a sketch pencil. Or an oil Pastel. Or…you get the point. Treat yourself to a new hobby, learn a new skill, or find a way spend your "me time" that's creative and unique. Take it from an avid art lover: give this 138 piece complete wooden art box set a Van Gogh!