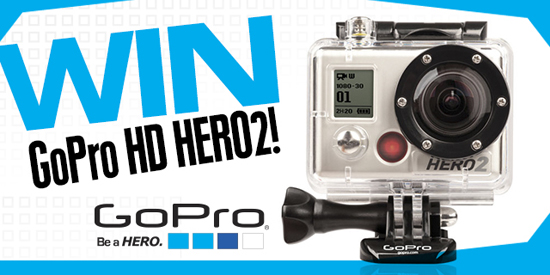 ---
About the GoPro HERO3+
12MP image capturing

4K resolution recording

H.264 codec, mp4 file format

Mono, 48kHz, AAC compression w/ AGC
---
How to get the most from your Go Pro!
---
1. Know Your Mount
Whether you plan to attach your GoPro to a bike, snowboard, helmet, or to your pet, it's a good idea to be familiar with the movement of your mount. A choppy film can be interesting for a few seconds, but for longer shots you want to absorb as much shock as possible to avoid too much bouncing. Before you film your final shot, do a test run to check out the angles and the outcome. Mounting your GoPro on the handlebars of a bike will result in a lot more choppiness, since the bike itself is going to be bumpier than a helmet- or chest-mount. The body's motion will absorb jumps and bumps better than the bars bike or board itself.
---
2. Plan Your Story
There's no problem with flying by the seat of your pants, but if you're looking for a bit of quality in your shot, then a lack of planning will do you no good at all. Have your ideas planned out in your head, or drawn out on paper before you begin your shoot. Find edit points—specific shots that connect the dots and drive your narrative, like zooming out from a tree to catch passing action, or throwing a ball at the camera, then panning over to another key action. These will give your raw footage a bit of fluidity between the main shots, and will bring a bit more enjoyment to the editing process.
---
3. Practice Makes Perfect
Obviously, right? You'll rarely, if ever, get that perfect shot with your GoPro the first time around. Look online for tutorials before heading out, and get a feel for operating the buttons blind. And definitely don't assume your angle is working. You would think the best shot would be right on your head, but not always. Sometimes with the cam on your head, you won't have much reference to what's going on, not to mention your helmet could block lot of the action. For a different perspective, try mounting the camera on the side of your full-face helmet. And always have someone else double check the direction the camera is pointing.
---
4. Play the Angles
Using only one field of view can be a bit boring. Combine shots mounted from different angles to get a fuller view of what's going on. On a mountain bike for example, toss in a two-second shot of the suspension. Or move the camera to the back of your board, then to the helmet, then just hold it in your hand, or have you're a friend behind you with a second GoPro. The more cameras you have, the better, so sign up to win one here! Get creative: duct tape and a ski pole are useful for filming almost anything.
---