This silky, fruity cocktail slides over the tongue, like an Orange Julius with a kick. And it's super-easy to make!
---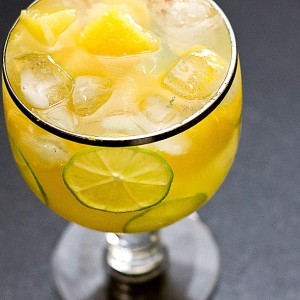 Ingredients
2 1/2 cups pineapple, peeled

2 ripe mangoes, halved and peeled

1 orange, peeled

6 ounces dark rum

6 ounces vanilla soy milk

3 cups tropical fruit, optional garnish

2 trays ice

Prep time: 10 minutes
Total time: 10 minutes plus 1 hour of refrigeration
Directions
To prep mango for juicing, hold mango upright. Using a paring knife, cut down along each side of the oblong pit. Make vertical incisions in mango flesh without piercing skin. Using thumb and forefingers, flex each mango half outward, and carefully cut flesh away from skin.

Cut pineapple and mangoes to size. Combine with orange. Juice. Makes about 2 cups. Pour contents into a sealable jar. Combine with rum and soy milk. Seal, shake and refrigerate about 1 hour. Pour contents into ice-filled glasses.
Yield: Makes 4 cocktails