Pan Roasted Chicken Breast with Roasted Tomatoes and White Beans – this rustic, Italian inspired dish evokes all of the flavours of comfort food without the guilt. Utilizing a bone-in chicken breast adds flavour and keeps the chicken moist. Create a nice crispy skin on the outside of the chicken by pan searing the breast, skin side down, on the stovetop. After that, the flavours meld together while finishing off and roasting in the oven. This dish pairs well with a crisp Pilsner (Beer) or dry Chardonnay/Sauvignon Blanc (Wine).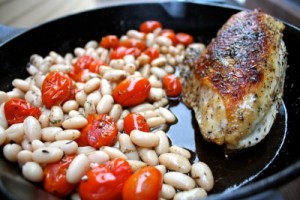 2 Tablespoons Extra Virgin Olive Oil
1 8 oz Bone-in Chicken Breast, skin on
Kosher Salt
Fresh Cracked Pepper
Italian Herb Seasoning Blend
1 Cup Cherry Tomatoes
4 Cloves Garlic, peeled
1 Cup Canned Great Northern/Navy/White Beans, drained
Preheat oven to 220 degrees C. On the stove top, preheat skillet over medium high heat; add oil and heat until oil shimmers in the pan and just begins to smoke. Add chicken breast, skin side down, and sear (do not touch) for 3 minutes. Flip chicken breast, and add cherry tomatoes and garlic cloves to pan. Season the entire dish lightly with kosher salt, fresh cracked pepper, and Italian herb seasoning. Add the skillet to the oven and roast, 18 – 22 minutes, internal temperature should be 70 degrees C. With 5 minutes remaining, add beans to skillet with the tomatoes, stir and add back into the oven to heat through. Remove skillet from oven and plate, discarding garlic cloves. Serve.