Installing a solar water pump not only invigorates and aerates the water, but also powers a waterfall or water feature, without adding to your monthly electricity bill. However, choosing the best solar powered water pump can be a hassle. This review will guide you to decide which water pump you need and where to find it.
---
Solar Water Pump Types: Submersible Versus External
Solar water pumps come in a variety of shapes and features, however, they mostly are divided into two different types – submersible (underwater) or external (out of pond).
Submersible Pumps: solar submersible pumps are designed to be wholly submerged in water, in the deepest part of the pond. They are generally suitable for the home garden with a small pond.
Easy and quick to install

Work well in environments which capitalize on a natural setting

No need to camouflage the pump

Operate very quietly so they are not distracting in your garden

Capable of draining your pond, if needed

Place pumps either directly into your pond or in a skimmer box or pond vault

Generate higher energy costs than other external types

More economical, specifically fit smaller ponds
External Pumps: external water pumps are usually used for ponds which require a large volume of water to be pumped. Hence they are not always fit the home garden.
Available as self-priming pumps able to draw their own water

External pond pumps

which are not self-priming will burn out a motor if the power shuts off momentarily and then returns, so protect against this by installing a check valve

Can be loud, disturbing and distracting

Offer long-lasting performance and easy repair

Need a dry location near your pond for installation

Require less routine maintenance than submersible pumps

Fit larger ponds
---
What Makes the Perfect Solar Water Pump
Whether the solar pond pump is powerful enough for its intended purpose or not is the first and foremost question to think. For example, if you have a 2000 gallon pond, a 200 GPH pump will not be sufficient as the main pond pump. However, if you want to add a small 3ft fountain to your 300-gallon pond, a solar powered pond pump may be the perfect option.
Overall, most solar pumps for sale are designed for ponds of a maximum size of 1000 gallons, but can also be used in larger ponds as a complementary feature.
Do you want the fountain to work at night?
Of course, solar pumps will not work without sunlight. If you want your fountain work whole day, a solar water pump which is powered only by a panel will not suffice. You need a pump with a rechargeable battery included. More expensive solar pumps come with a battery storing energy during the day and utilize the energy to power the pump at night.
Considerations for the solar panel location
If you intend to keep the solar panel out of sight, you should find a solar powered pump which has wiring that is long enough to allow the panel to be placed away from the fountain. However, keep in mind that you should set the solar panels in an area which catches a good amount of direct sunlight for maximum benefits.
---
Increase the Efficiency of a Solar Water Pump
Place the solar panels to expose to the strongest sunlight (11am-3pm)

Clean the solar panels and solar pump regularly

Decrease the solar water pump height

Improve the water quality and less the work of the pump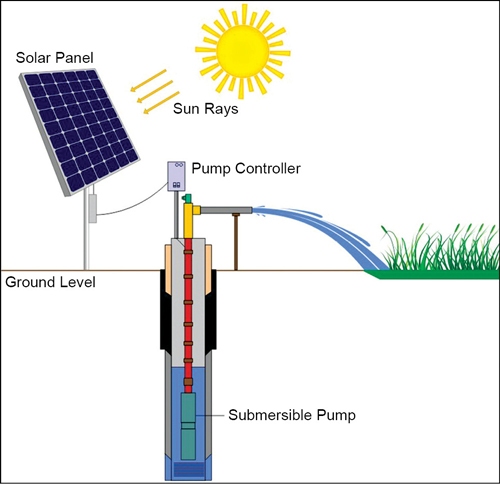 ---
Select the Best Solar Water Pump 2018
Image
Name
Solar Power Fountain Outdoor Pond Pool
Water Pump
Solar Power Outdoor Fountain Water Pump with 4 Fountain Heads
Solar Power Outdoor Garden Water Pump
Solar Power Water Featrue Pump Kit with Timer & LED Lights
Price
$39. 97
$49. 98
$79. 97
$159. 97
Solar Panel Dimension
19CM * 14CM * 1.7CM
25CM * 16CM * 1.7CM
40CM * 25.5CM * 2.3CM
51.5CM * 34.5CM * 2.3CM
Peak Power
2W
3.5W
10W
20W
Cable Length
5M / 16.4FT
5M / 16.4FT
5M / 16.4FT
5M / 16.4FT
Maximum Flow Rate
250L/H
300L/H
740L/H
1560L/H
Max Power Voltage
5.8V
8V
17.5V
17.28V
Max Power Current
347MA
460MA
580MA
1.157A
Max Head
0.7M
0.9M
1.7M
3.2M
Flow Adjustable
Yes
Yes
Yes
Yes
Dry Protection
No
Yes
No
No
Other Features
Submersible Pump IP 68, 4 Different Fountain Heads, 6 Volt Single Crystalline Solar Panel, Esay to Install, CE & RoHS Approved"
Submersible Pump IP 68, 4 Different
Fountain Heads, 9 Volt Single Crystalline Solar Panel, Easy to Install, CE & RoHS Approved
Submersible Pump IP 68, 3 Different Fountain Heads, 17.5 Volt Single Crystalline Solar Panel, Easy to Install, CE & RoHS Approved
Submersible Pump, 17 Volt Single Crystalline Solar Panel, LEDs for Night Time Display, Timer Included, Photosensitive, Easy to Install, CE & RoHS Approved
---
Conclusion
There are various solar water pumps on sale available at CrazySales, which saves you some percentage of cost. For more other tools or devices for your home garden, you can click garden supplies for an overall review.