Dogs are active animals enjoying exploring, sniffing and playing, but it's also important for them to take good and enough rest. And when it comes to dog beds, there are literally tons of different types of pet beds available to choose from. When shopping around for the best dog bed online, take your time to assess what will suit your dog from different aspects. This buying guide will help your pets get a good rest time making sure they are somewhat quiet and comfortable to snooze without any disturbances.
---
Types of Dog Beds
Standard Dog Bed. These standard beds are supposed to be the most affordable options in most cases, only depending on what sort and comfortability level you get. They look more like pillows or cushions that come in various shapes, colors, and sizes. The materials used in their fabrication vary, too. Most are either fleece or flannel as they are generally softer and more comfortable for pets, while some are microfiber fabric materials and faux suede.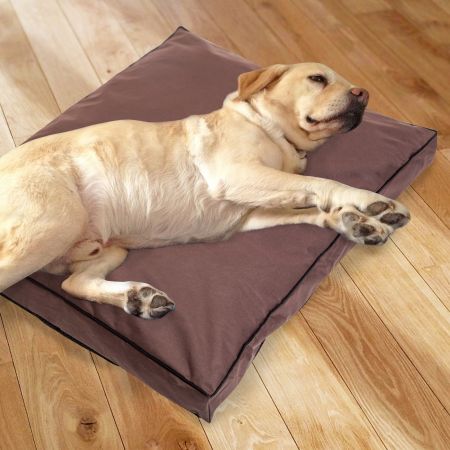 Nest Dog Bed. This type of beds is suitable for a dog that loves to curl up when they sleep. If you find your pet feels better when it is in an enclosed area, this kind of puppy beds will be the perfect choice. They are typically oval instead of perfectly round which provides more space inside the "nest". Unless the dog is much smaller than the nest bed, this is not a good choice for a dog that likes to stretch out or lay on their side.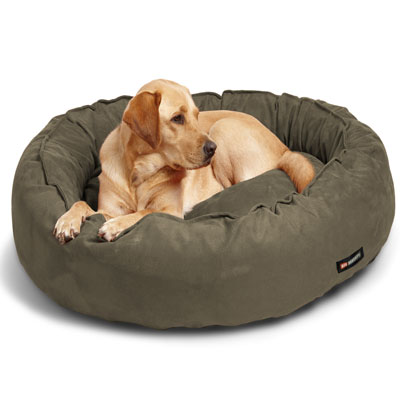 Kennel or Crate Dog Bed. Crate training is much more popular currently than it was decades ago and many dogs love to sleep in their kennels or crates, even when the door is left open. These kennels or crate beds, which often have a removable cover for easy washing, are made fit inside your puppy's crate and help keep them comfortable.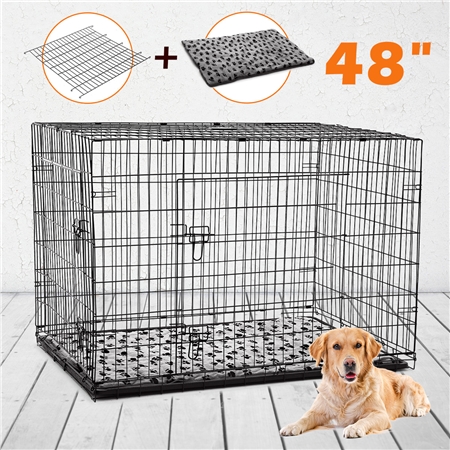 Heated Dog Bed. Heated dog beds come in two varieties: electric and insulated. The insulated bed has a layer similar to space blanket, which helps the dog to use their own body heat in order to remain warm. While the plug-in beds are a bit more expensive but tend to be more effective. They are generally made to be used in sheltered areas like sheds and barns instead of being placed outdoors.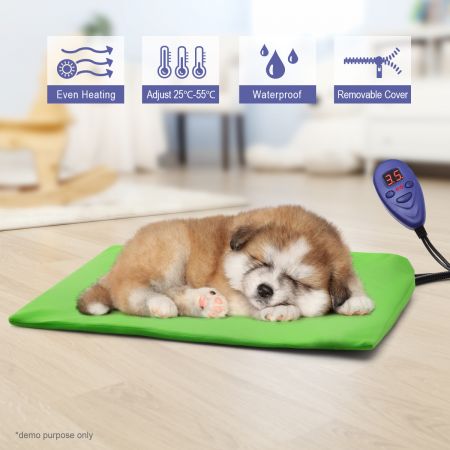 Cooling Dog Bed. There are a lot of breeds surprisingly prone to overheating, bulldogs for instance, and you can make them comfortable can cool in the summer with a cooling bed. A cooling dog mattress is designed with a special material that helps provide for a longer-lasting cooling sensation on dogs. These materials can be gel-like liquids or simple water.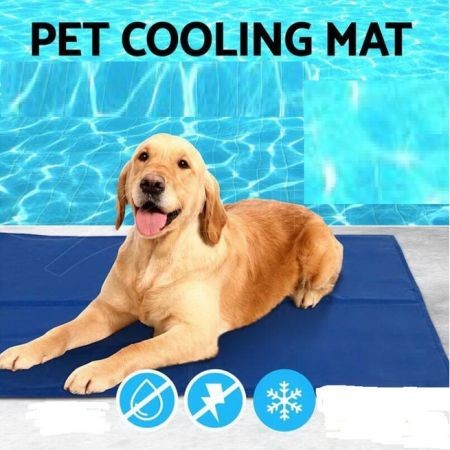 Orthopedic Dog Bed. These beds are designed for dogs with arthritis or other orthopedic problems. They usually come with highly specialized foam padding that effectively conforms to the natural shape of the pet's body and offers additional support. They can price up a little and are expensive than a normal or standard dog bed.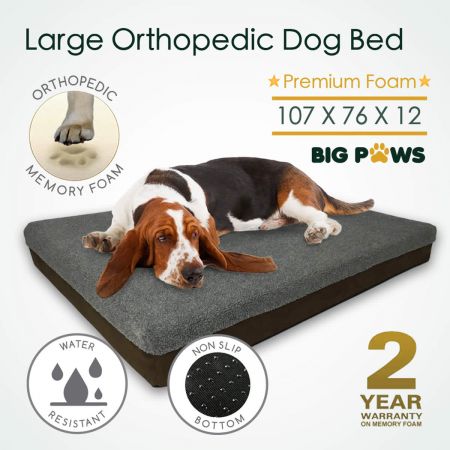 ---
What Makes a Good Dog Bed
Dog Size.

It is important to make sure you choose the right size bed for your dog. It should be large enough for them to be able to lie comfortably in all natural positions and without forcing them into too-small spaces. Aim for a dog bed that's a few inches longer and wider than your puppy, neither end of the dog should hang off the

dog furniture.
Dog Sleeping Style.

There are dogs that love to curl up while there are those sleep fully stretched. If your pooch loves to curl up like a shrimp or a fetus, then getting something like a nest bed should be desirable. However, if your puppy loves to stretch its body and legs as far as possible,

large dog beds

are more suitable.
Dog Health Condition and Age.

If you have a pet that is already old, has joint or musculoskeletal problems, is at high-risk for the development of certain conditions like hypothermia or overheating, or any other health condition, then you have to consider these factors into your decision to buy a specialty bed.
The Location of Dog Bed.

Make sure you have a clear idea of where to place it before you

buy a dog bed

. If it is only for dog resting, then perhaps a corner in the living room will be sufficient. But, if your intention to use it as a dog sleeping bed, then consider placing it in an area where there is less traffic, no distractions, and have plenty of walls to keep your pet warm.
Activity Level and Strength.

The activity level and strength of your dog will influence your choice of material for the dog bed.

If your pup runs around outside all the time and constantly tracks dirt through your house, a

washable dog bed

will be better. If your dog is a chewer, you will need a dog bed that must be chew-proof and scratch-resistant if you want it to last many years.
---
Dog Bed Reviews at CrazySales
For more dog beds on sale, visit Pet Beds.
---
Conclusion
Finding the right dog bed for your canine friend or friends does not have to be frustrating and difficult. With the information you have read in the buyer's guide, now you can shop with confidence and know which bed will be the one that your pet will get enjoyment from.