Make the most of the winter by taking advantage of some seasonal food ingredients. Here's a few recipes that you might enjoy on cold winter days.
Mustard Chicken & Winter Veggies
1 chicken, about 1.8kg/4lb in weight
2 onions
6 celery sticks
6 carrots
2 bay leaves
2 thyme sprigs
1 tsp black peppercorn
50g butter
100g smoked bacon lardons
3 small turnips, peeled and cut into wedges
1 tbsp plain flour
2 tbsp wholegrain mustard
3 rounded tbsp crème fraîche
good handful parsley, chopped
Halve 1 onion, 1 celery stick and 1 carrot and place in a pot with the chicken, as well as the herbs, peppercorns and a sprinkling of salt. Add eough water to cover half the chicken. Bring the water to a boil and then tightly cover and simmer for 90 minutes. After a short time to cool slightly, remove the chicken and place on a dish. Strain the remaining stock into a bowl. After the chicken has cooled enough to handle, strip the meat from the bones into pieces using your hands.
Chop the remaining onion, and gently fry in the same pot for about 5 minutes with the butter and lardons until just starting to brown. Add thick slices of the remaining carrot and celery, then fry for 2 mins. Stir in the flour, then cook for 1 min. Measure 900ml stock (if you're short, make it up with water), then gradually add while stirring. Cover and let simmer for 20-25 mins until the vegetables are tender. Place the chicken back in the pan with the mustard and crème fraîche, and continue a simmer while stirring gently. Sprinkle with parsley as desired.
A Fruity Winter Salad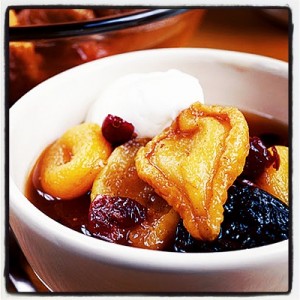 Ingredients
600g good-quality ready-to-eat dried fruits (such as prunes, pears, apricots, figs, cranberries)
3tbsp clear honey
1 vanilla pod, split lengthways
1 Earl Grey tea bag
1 tbsp fresh lemon juics
mascarprone or Greek yogurt, to serve
Tip the fruits and 700ml/11⁄4 pints cold water into a large saucepan. Add the honey and vanilla, scraping the seeds from the pod into the pan. Bring to the boil. Stir well, lower the heat and simmer for 10 minutes until slightly syrupy. Remove the pan from heat and stir in the tea bag. Let the tea infuse into the mixture for around 10 minutes. Take out the tea bag and vanilla pod, tip the fruits and liquid into a non-metallic bowl and pour over the lemon juice. Stir, then let cool. Cover and chill until ready to serve.