Summer is here and it's time to head out for some fun in the sun! If you're heading to the beach, or just heading out to the pool, CrazySales has you covered for all those little accessories that you may need for your outdoor fun. Maybe you need some new large beach towels, chairs, or umbrellas to keep you cool and covered in shade. We also have a wide range of rafts and boating accessories for those who like to get out on the water! Whether you're a water person, sand person, sun person or shade person, you can find exactly what you're looking for at CrazySales. Here's a small list of some of the best and most popular summer outdoor/beach items available at crazy prices today at CrazySales!
---
1. Magic Beach Towel Skirt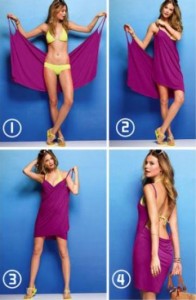 Solve your beachwear issues in style this summer with this attractive, eye-catching magic beach towel. This beach towel skirt will cover 70cm x 140cm of hot sandy ground for you to sunbathe on. Made out of cotton and high quality microfiber, this towel is super soft, comfortable and will absorb the salty sea water right off your body. The colourful design will allow you to spot your beach towel from afar so you will never worry about losing your spot on the beach again. And when you're finished sunbathing, simply throw it over your shoulders, wrap it around your body and you're covered, looking great, and ready to go anywhere! Ok, so you might not want to wear it to a formal dinner party, but heading out for a quick bite on the way home from the beach? This wrap is perfect!
---
2. Two Person Inflatable Paddle Boat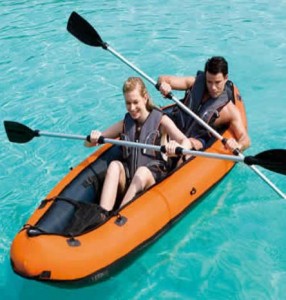 Stability: measuring just under a metre in width, the Ventura is great for stability, which is handy for people just getting started on the water and also for added steadiness whilst fishing. The inflatable canoe may not be solid, but the hull is tough and rigid giving you extra firmness while giving more manoeuvrability when paddling.
Cofortm: Paddle in comfort with the padded backrests and adjustable seats. The shape of the front end was designed to limit the amount of water that can come over the side into the raft, and the drain valve and plugs make getting rid of any accumulated water as easy as the touch of your hand.
Durability: The Hydro-Force range is produced by Bestway, a company renowned for quality, affordability and decades of experience in the inflatables market. The vinyl reinforced hull is UV, Oil and Salt water resistant.
---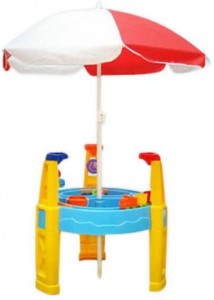 3. Children's Activity Play Set
Let your kids explore the outdoors and have fun with the Outdoor Water & Sand Children Activity Play Transport Table with Accessories & Umbrella. If you've got a little extra room in your car, pack this play set for the kids and they'll be set for fun all day! Or just set it up in the home garden for a more permanent outdoor solution for fun. Sturdy table construction with two smart compartments for sand and water, including drain plugs for easy cleaning. Comes with a large umbrella to keep your child protected from UV rays. Table comes with 16 accessories including trains, boats, funnels and more.
---
4. 3M Beige Cantilever Umbrella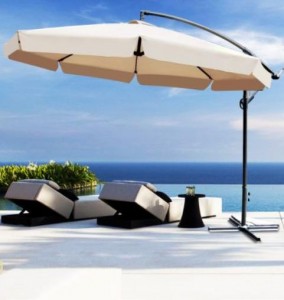 Spend the hot summer days outdoors but in the shade with this 3M Beige Cantilever Umbrella. Made from durable polyester fabric, this outdoor umbrella can tilt in any direction to block the sun as needed, ensuring that you stay cool and comfortable at all times. The broad gives you options and allows you to position anywhere you choose. Whether you use it to cover your patio set while lounging with friends or to shade you as you relax in a hammock, this off set umbrella is perfect for enjoying the summer heat without the suffering the scorching effects of the sun.
---
5. UV Protection Beach Tent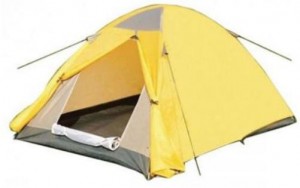 Heading to the beach, but want to stay protected from the sun? Check out this awesome new Bestway UV Protection Beach Tent. At 2.1 meters by 1.5 meters size and a height of 1.09m, this pop up tent can comfortably hold 2 people. With its bright yellow colour, you will never lose your shady spot on the beach after a cooling swim. Sturdy in construction on its fibreglass pole structure, this Natoura Portable Tent features a PE floor and tent walls made out of high quality 170T polyester. Easy to clean and use, this tent is perfect for enduring the sandy environment under the blistering sun. Folding up into a cylinder shape which slips right into a carry bag, this tent could not be any more convenient.