It's not just the bargains that have got Australian's talking about Crazysales.com.au. This week the online retail department store launched their latest competition and it is something to shout about.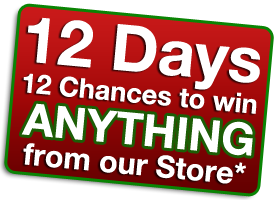 What's so great about a Christmas competition?
This Christmas season CrazySales.com.au are giving Australian's the chance to win Anything from their online department store in their "12 Days of Christmas" Competition. Anything does however come with a very generous cap.
In keeping with the "12 Days of Christmas" theme, CrazySales are giving away a prize a day for twelve days. Entrants fill in their "Wish-list" with a prize of their choice from the CrazySales website up to the value of $999.00 cap.
The online retail giant stock a huge range of prizes to choose from and with over 10,000 products online there's something for everyone. Their product range extends over 20 categories including furniture, camping, electrical, wine and more.
Known for their bargains and fast delivery CrazySales.com.au stock a large range of Christmas gifts for every budget and personality. With 40% off all Christmas decorations every home can look its best and get into the spirit of Christmas with lights and outdoor decorations.
For you chance to be one of the twelve lucky winners to win a prize of your choice go to CrazySales.com.au Facebook page or click here to enter.