Are you looking for some new Easter brunch desserts? Easter is coming up and if you think that dessert is one of the most important parts of the day…you are correct. Come find your favourite recipe here and surprise your family. What's more, an Easter brunch isn't the same without a delicious dessert or maybe even a couple of different desserts!
---
Chocolate hazelnut cake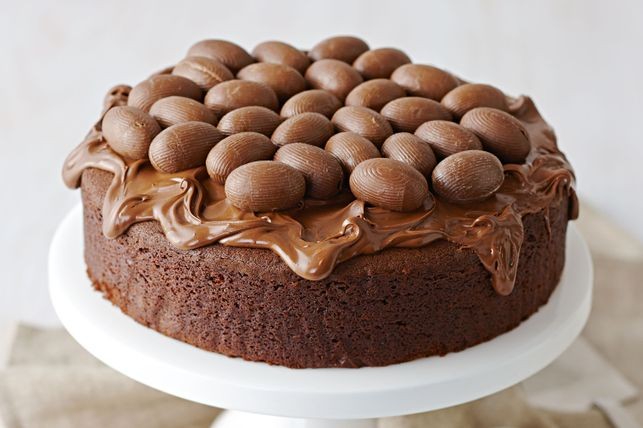 Ingredients:
200g dark chocolate, chopped (Blenders)
250g butter, softened
1 cup brown sugar
1 teaspoon vanilla essence
2 eggs, at room temperature
1 3/4 cups self-raising flour
1/4 cup Cocoa
3/4 cup milk
1 cup chocolate-hazelnut spread
Small solid chocolate Easter eggs, to decorate
Steps:
1. Preheat oven to 160°C/140°C fan-forced. Grease a 6cm-deep, 22cm round cake pan. Line base and sides with 2 layers of baking paper.
2. Place chocolate in a microwave-safe bowl. Microwave on MEDIUM (50%), stirring every 30 seconds with a metal spoon, for 2 minutes or until smooth. Set aside to cool slightly.
3. Using an electric mixer, beat butter, sugar and vanilla until light and fluffy. Add eggs, 1 at a time, beating well after each addition. Add cooled chocolate. Beat until just combined.
4. Sift flour and cocoa powder together. Fold ½ the flour mixture into chocolate mixture. Fold ½ the milk into chocolate mixture. Repeat with remaining flour mixture and milk. Spoon mixture into prepared pan. Smooth surface.
5. Bake for 1 hour to 1 hour 10 minutes or until a skewer inserted into centre of cake comes out clean (cover with foil if over-browning). Stand in pan for 15 minutes. Turn out onto a wire rack to cool completely.
6 Using a spatula, spread chocolate-hazelnut spread all over top of cake. Decorate with Easter eggs. Serve.
---
Easter Egg Breakfast Popsicles

Ingredients:
500g Yogurt
handful granola
handful blueberries
handful raspberries
Step 1
Place a small dollop of yoghurt into each egg in your silicone mould, filling each egg to about a third. Push chunks of granola into the yoghurt, then add a few raspberries and blueberries to each egg too.
Step 2
Place a lolly stick into each compartment, laying it down as flat as possible. Fill each egg to the top with yoghurt, making sure it covers all of the fruit and the lolly stick.
Step 3
Place mould in the freezer and freeze for at least 2 hours or overnight, until the eggs are frozen through and solid. Once frozen, pop out of the moulds, leave the popsicles on a plate at room temperature for a couple of minutes to soften a little then serve immediately.
---
Easter Crack White Chocolate Toffee Recipe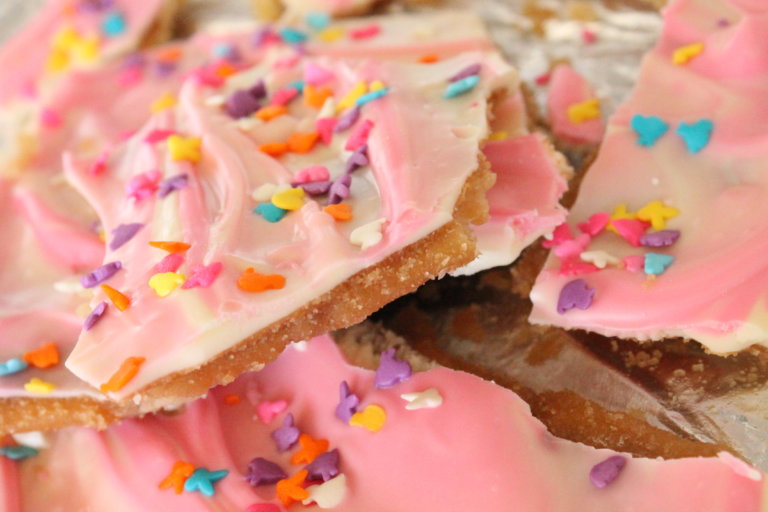 Ingredients:
1 Cup of Butter (2 Sticks)
1 Cup Brown Sugar
1 Stack of Saltine Crackers
1 lb. Package of White Almond Bark Melted
Easter or Spring Sprinkles
Steps:
1. Melt Butter and Brown Sugar over medium heat. Bring to a boil and stir while boiling for 5 minutes. Line a cookie sheet with Aluminum Foil
2. Place Crackers evenly on the Foil Pan. Pour Sugar Mixture over the Crackers. Bake at 325 Degrees for 8 minutes. While Crackers are baking melt almond bark in the microwave using the directions on the package.
3. Pour white chocolate over the cracker mixture and spread evenly. Top with your favorite sprinkles or M&Ms! Allow to cool completely and break into smaller pieces.
---
Easy Lamb Cake

Ingredients:
1 pkg. (2-layer size) yellow cake mix
1 pkg. (3 oz.) JELL-O Cherry Flavor Gelatin
1 tub (8 oz.) COOL WHIP Whipped Topping, thawed
15 JET-PUFFED Marshmallows, cut in half
1/4 tsp. pink colored sugar
1 pink jelly bean
1 tsp. black decorating gel
Step 1
Heat oven to 350°F. Cover bottoms of 2 (9-inch) round pans with parchment; spray with cooking spray. Prepare cake batter as directed on package. Stir in dry gelatin mix; pour into prepared pans.
Step 2
Bake 25 to 28 min. or until toothpick inserted in centers comes out clean. Cool cakes in pans 15 min. Invert onto wire racks; gently remove pans. Cool cakes completely.
Place 1 cake layer on serving plate; spread top with 1 cup COOL WHIP. Cover with remaining cake layer. Frost top and side of cake with remaining COOL WHIP.
Step 3
Press cut sides of 2 marshmallow halves in colored sugar; gently press into COOL WHIP on cake as shown in photo for the lamb's ears. Decorate cake with jelly bean, decorating gel and remaining marshmallows as shown.
---
Bunny Sandwich Cookies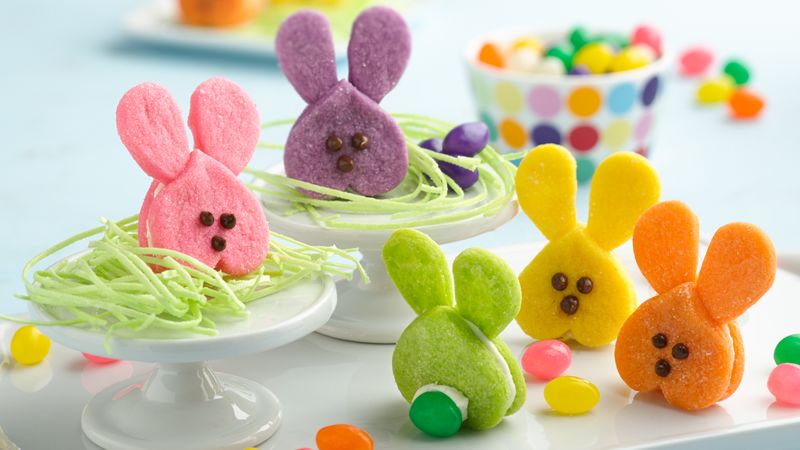 Ingredients:
1 pouch sugar cookie mix
1/2 cup butter, softened
1 egg
1/4 cup all-purpose flour
Gel food colors
Granulated sugar
3/4 cup vanilla frosting
1/2 cup powdered sugar
1/4 cup chocolate chips
36 jelly beans
Steps
1. Heat oven to 350°F. In medium bowl, stir cookie mix, butter, egg and flour until dough forms. Divide dough into 6 equal portions, and color each portion with food color as desired.
2. Roll 1 portion of dough on lightly floured surface to 1/4-inch thickness. Using 1 1/2-inch heart-shaped cutter, cut out 18 heart shapes. Cut 6 of the heart shapes in half for ears. Dip shapes into granulated sugar. Tuck ears under 6 of the heart shapes to form ears on bunny faces. Place all on ungreased cookie sheet. Repeat with remaining portions.
3. Bake 5 to 7 minutes or until lightly golden brown.
4. Mix frosting and powdered sugar. Set aside 2 tablespoons of the frosting. Spread frosting on bottom sides of heart shapes without ears. Top each with heart shape with ears.
5. On lower back side of bunny, place dab of remaining 2 tablespoons frosting, and attach jelly bean for tail. In small microwavable bowl, microwave chocolate chips uncovered on High about 30 seconds or until chips can be stirred smooth. Place in small plastic food-storage bag. Cut small opening in 1 corner of bag. Squeeze plastic bag to make eyes and nose for each bunny. Let stand to set chocolate and frosting. Put them in fabulous display!
Are these cute dessert recipes way better than whatever the Easter Bunny put in your basket? Cute Easter dessert recipes here include Chocolate hazelnut cake, Easter Egg Breakfast Popsicles, Easter Crack White Chocolate Toffee, Easy Lamb Cake, Bunny Sandwich Cookies everyone will love. Celebrate Easter with show-stopping desserts now!
More Easter ideas can be checked in our Six Last-Minute Easter DIY Decorations to Make Your Easter Stand Out
Reference: http://www.taste.com.au/recipes/chocolate-hazelnut-cake/ce3df451-3142-46ec-8a09-b1384592abb9?r=recipes/top10easterdesserts&c=057c2fed-bd4f-4e62-9428-615524b8dca3/Top%2010%20easter%20desserts
https://www.eatsamazing.co.uk/easy-recipes-for-kids/healthy-easter-egg-breakfast-popsicles-recipe
http://www.passionforsavings.com/easter-crack-white-chocolate-toffee-recipe/
http://viralslacker.com/tasty-easter-dessert-treat-recipes/
https://www.tablespoon.com/recipes/bunny-sandwich-cookies/70b416f9-32b1-474a-91de-18c984cd3dbe?nicam4=socialmedia&nichn4=pinterest&niseg4=tablespoon&nicreatid4=post&crlt.pid=camp.efrai1k37rrb