Massage therapy is a great method to relax and relieve stiff and painful muscles after sitting or standing all day. A professional massage is a good choice but would burn a hole in your pocket after several services. Fortunately, there are plenty of choices like massage cushions which provide a cheaper and easier way to enjoy the benefits of a massage, most notably relieving stress and relaxing tense muscles.
Benefits of Massage Cushions
Massage cushions are the cushions that allow you to place securely on your chair, couch and even your car seat for a relaxing and invigorating massaging experience. These kinds of cushions help save you lots of money and time on trips to the massage therapists and make it possible to have a massage on demand at home or in the office comfortably.
Relieve pains and aches: The massage pad gives you an effective way to relieve pains, aches in the neck, shoulders and back and tight muscles since it's designed to mimic the finger and thumb pressure of a masseuse to stimulate the muscles and nerve endings. Whether you're a desk worker, a salesperson or a driver, if you're suffering from chronic pains or get a stiff neck occasionally, a massage pad is the best solution to treat these kinds of pains. However, if you have severe arthritis, remember to consult your doctor before using a massage pad.
Anxiety and stress relief: Using a massage pad can not only relieve pain but also can reduce stress, anxiety and improve your well-being. It helps release the nervous system and create the feel-good hormone which is a great relief for stress and tension.
Suit for different places: These cushions can be added to any chair or couch to provide you with a comfortable massage while enjoying your favourite movie or video. Some are equipped with car adapters, so you can use them in the car when you're taking breaks on a long journey, or during driving if you're a passenger.
Types of Massage Cushions
Massage chair cushions are available in different styles. Some come with airbags or air pockets, while others specialise in only one style like percussion or shiatsu style for premium quality. However, some massage pads cover all of the following styles:
Airbags massage pads are programmed to inflate or deflate to gently squeeze your body for promoting blood circulation and relieve tight muscles.

Percussion types offer a deep tissue massage for relaxation and refreshment.

Shiatsu massage cushions mimic the hands of a masseuse, offering deep concentration on pressure points for pain and ache relief.

Kneading styling mats can ease your pains and muscle discomfort through performing on different areas of your body.

Nodes style gives you an intense massage, but you should be careful about the number of massage nodes.
Best Massage Cushions Buying Guide
Product
Air Compression Massage Pad Cushion Neck Back Shiatsu Squeeze Deep Kneading Massager for Home Office Car
Back Neck Car Seat Massager Pad Full Body Shiatsu Massage Chair Cushion Home Office
Image
Price
$169.88
$59.97
Massage Style
airbags, kneading, shiatsu, rolling, node
Shiatsu, kneading, node
Massage Points
Neck, shoulders, upper back, lower back, waist, hips, thighs
Neck, shoulders, upper back, lower back, waist, hips, thighs
Intensity Setting
3 Levels
3 Levels
Auto Massage Mode
Yes
Yes
Auto Shut Off
15 minutes
15 minutes
Heating
Yes
Yes
Vibration
Yes
Yes
Remote Control
Yes
Yes
Car Adapter
No
Yes
Product Size
Back: 77x46cm
Seat: 45x39cm
Back: 67.5x41cm
Seat: 41x35cm
Power
60W
24W
Voltage
12V
12V
Weight
8.4kg
2.4kg
Material
Mesh fabric, removable cloth cover
Mesh fabric
#1 Air Compression Massage Pad Cushion Neck Back Shiatsu Squeeze Deep Kneading Massager for Home Office Car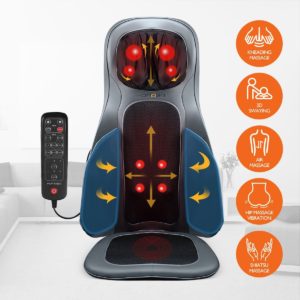 The Air Compression Massage Cushion is the combination of quality and versatility that's worth every penny. The advanced 3D functionality, combining with air compression function, delivers a comprehensive and satisfying experience. It is equipped with 4 neck massage nodes, 4 back massage nodes, 4 airbags on the waist and 1 airbag on the hips. Therefore, it's capable of deeply massaging your muscles and relaxing your neck, shoulders, back and thighs. With an easy-to-use remote control, you can select between kneading, shiatsu, and rolling massage styles and adjust the intensity levels freely. Moreover, its vibration and heating functions give you a luxurious spa-like experience. For safety, the chair offers a 15-minute auto shut-off function. The massage mat can be positioned on various pieces of furniture, chairs and seats for instant comfort.
#2 Back Neck Car Seat Massager Pad Full Body Shiatsu Massage Chair Cushion Home Office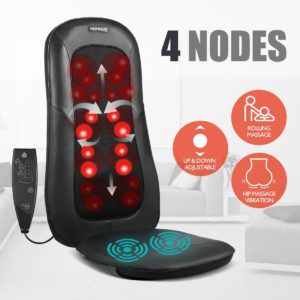 This Massage Chair Cushion can be the next favourite thing in your house. It is entirely built to treat your sore and painful back and relieve tight muscles of your whole body. Four roller nodes travel up and down the length of your spine, offering an excellent deep tissue kneading massage to closely mimic a professional masseuse. The vibration seat offers an invigorating massage to your upper hip or thighs with 3 adjustable intensities. It also comes complete with a heating function to provide your whole body with satisfying heating therapy. You also have the freedom to customise the massage process with the remote controller. The shiatsu massage cushion also ships with a car adapter, ideal for people who spend lots of time in cars.
Notes: Even though this massage cushion can be used in vehicles, you shouldn't use it while driving.
Conclusion
Heated massage pads are a great investment if your job primarily involves you sitting all day as they're capable of giving you a customised massage whenever you want. Not only will these cushions relieve the tension in your muscles, but they will alleviate anxiety and depression, ultimately achieving good health and well-being in life.
Most of the best massage cushions available in the market feature innovative technology, and offer massages as close to professional massages as possible. Whatever you intend to buy, remember to find a high-quality one with clear instructions and safety guarantees and make the most out of your personal massager. If you're experiencing some serious illnesses, consult your doctor before opting for any kind of massage cushion.