Join CrazySales and find brilliant ideas and products for treating dad to something extra special. We've got all the Father's Day recipes you need to make him feel like a king. Happy Father's Day To Everyone! Let's look at these recipes: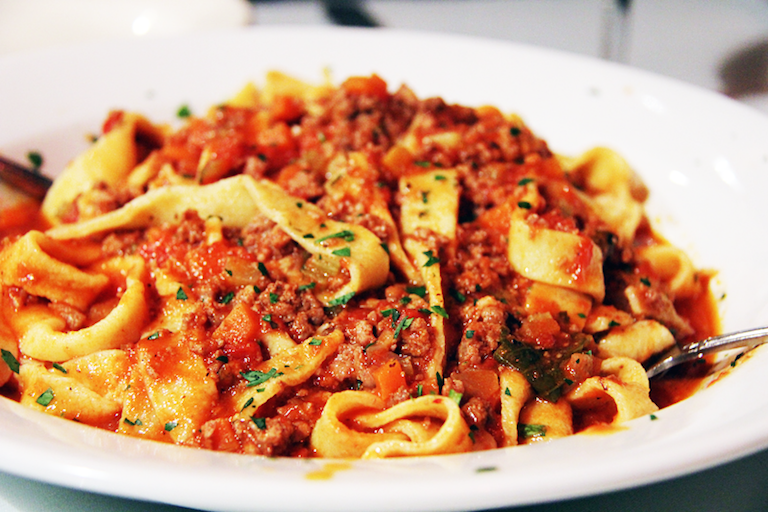 Equipment
You'll need a Meat Grinder, a Pot and a Skillet.
Total Time 20 min
Ingredients
12 ounces pappardelle
1 tablespoon olive oil
3/4 pound ground beef
6 cloves garlic, chopped
2 anchovy fillets
1/4 teaspoon crushed red pepper
kosher salt and black pepper
1 28-ounce can crushed tomatoes
1/4 cup dry white wine
1/2 cup grated Parmesan (2 ounces)
Directions
Step 1
Cook the pasta according to the package directions. Drain and return it to the pot.
Meanwhile, heat the oil in a large skillet over medium-high heat. Add the beef and cook, breaking it up with a spoon, until browned, 4 to 5 minutes.
Step 2
Stir in the garlic, anchovies, red pepper, ½ teaspoon salt, and ¼ teaspoon black pepper.
Add the tomatoes and wine and simmer, stirring occasionally, until slightly thickened, 8 to 10 minutes.
Step 3
Toss the pasta with the sauce and ¼ cup of the Parmesan. Sprinkle with the remaining Parmesan before serving.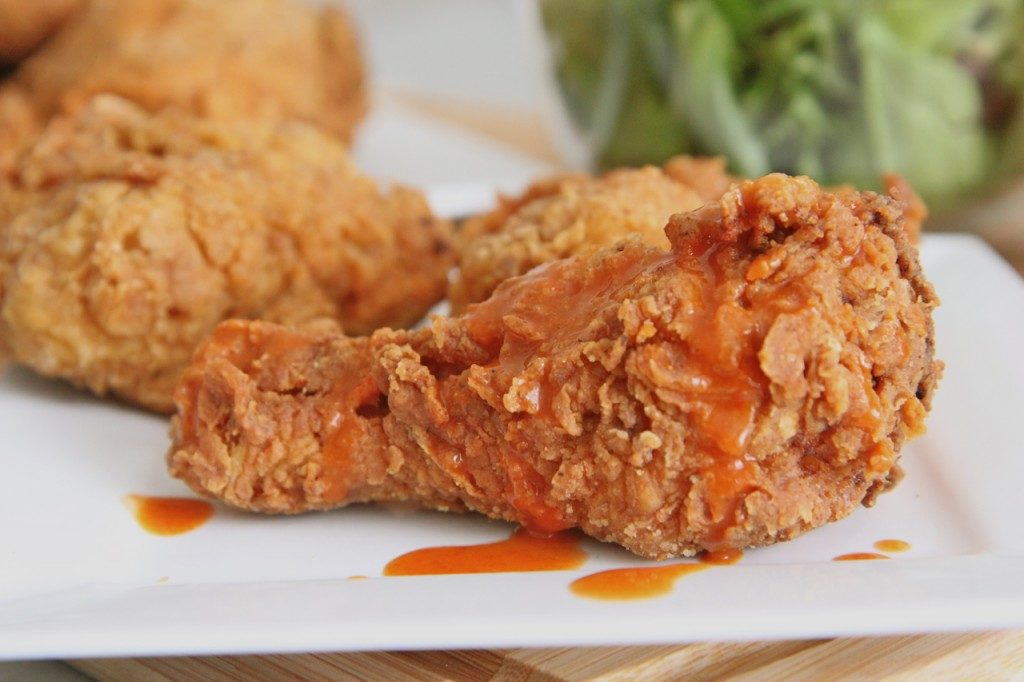 Equipment
You'll need an Oven and a Fryer.
Total Time:
2 hr 40 min
Prep:15 min
Inactive:2 hr
Cook:25 min
Ingredients
2 chicken drumsticks, skin on
2 chicken thighs, skin on, bone in
3 to 4 cups milk
2 1/4 cups solid vegetable shortening, for frying
1 tablespoon plus 1 teaspoon salt
3/4 cup all-purpose flour
1 teaspoon cayenne pepper
1 egg, beaten
Directions
Step 1
In a medium pan, place chicken and cover with milk. Cover with plastic wrap and refrigerate for 2 hours to overnight. This helps tenderize the meat, but is optional
Step 2
In a large saucepan over a medium-high heat, using tongs, transfer chicken into pot, then pour in the milk. Bring milk to a boil, then reduce heat to medium-low allowing to simmer until the chicken is cooked through entirely, about 20 minutes. Remove the chicken from the milk, and place on a rack to cool. Allow them to sit until warm about 15 minutes, and then pat dry using a kitchen towel.
Step 3
Heat vegetable shortening in an oven over high heat just until it's nearly at the smoking point around 325 degrees F.
In a large zip-lock bag, add salt, flour, cayenne pepper, shake to combine.
In a medium bowl, beat 1 egg.
Place each piece of chicken, 1 at a time, in the bag and shake to coat the chicken. Then dip chicken into the egg to coat. Place the chicken back into the flour to coat for a second time. Repeat this method on remaining 3 pieces of chicken.
Step 4
Gently drop each piece of chicken into hot oil, allowing the skin to crisp and turn golden brown in color, about 1 minute per side. Remove from the oil and transfer to a paper towel lined plate. Serve immediately.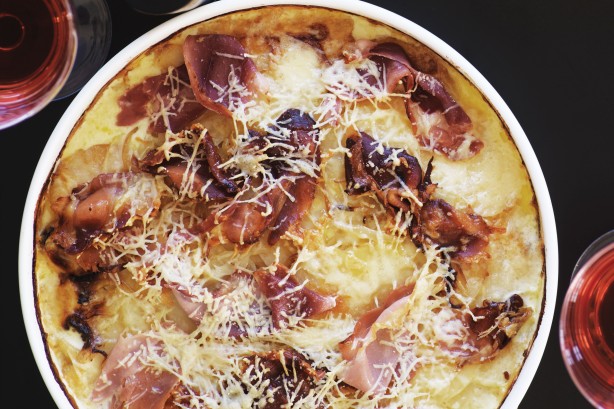 Equipment
You'll need an Oven and a Baking Tray.
Total Time 50 min
Ingredients
Melted butter, to grease
1 x 300ml ctn thin cream
125ml (1/2 cup) milk
1.25kg sebago (brushed) potatoes, peeled, thinly sliced
2 large brown onions, halved, thinly sliced
100g thinly sliced prosciutto
60g (3/4 cup) finely shredded parmesan
Directions
Step 1
Preheat oven to 170°C. Brush a 2.5L (10-cup) capacity ovenproof dish with melted butter to lightly grease. Combine the cream and milk in a saucepan over low heat and cook, stirring occasionally, for 2 minutes or until heated through.
Step 2
Arrange half the potato slices over the base of the prepared dish. Sprinkle with half the onion. Season with salt and pepper. Pour over half the cream mixture. Continue layering with the remaining potato slices, onion, salt and pepper and cream mixture.
Step 3
Cover with foil and place on a baking tray. Bake in oven for 1 hour or until potato is tender. Scatter prosciutto over the potato bake and sprinkle with parmesan. Bake, uncovered, for a further 25-30 minutes or until golden brown and the potato is very tender.
Step 4
Set aside for 15 minutes to cool. Serve.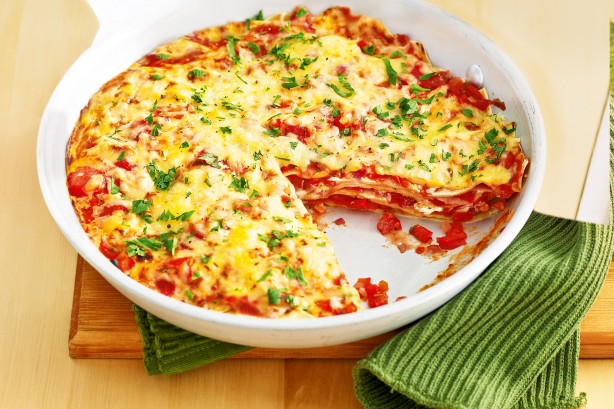 Equipment
You'll need a Frying Pan with a lid and flameproof handle.
Total Time 30 min
Ingredients
2 teaspoons olive oil
1 medium red onion, finely chopped
2 garlic cloves, crushed
1 medium red capsicum, finely chopped
2 teaspoons dried oregano
410g can crushed tomatoes
3 fresh lasagne sheets, cut into thirds
1/2 x 250g tub Weight Watchers cream cheese
100g Weight Watchers shaved leg ham
3/4 cup Weight Watchers grated tasty cheese
Chopped fresh flat-leaf parsley leaves, to serve
Directions
Step 1
Heat half the oil in an 18cm (base), heavy-based frying pan over medium-high heat. Add onion, garlic and capsicum. Cook, stirring, for 5 minutes or until vegetables are tender. Add oregano and tomato. Season with salt. Cook for 2 minutes or until heated through. Transfer to a bowl. Wipe pan clean.
Step 2
Spread 1 side of each piece of lasagne with cream cheese. Drizzle remaining oil over base of pan. Arrange 2 pieces of lasagne, cream cheese side-up, over base of pan. Top with one-third of the ham, then one-quarter tomato mixture. Repeat layers, finishing with 3 pieces of lasagne then 1 layer tomato mixture. Sprinkle with tasty cheese. Preheat grill on high.
Step 3
Return pan to medium-low heat. Cook, covered, for 8 to 10 minutes or until lasagne sheets are tender. Remove lid. Grill for 5 to 6 minutes or until cheese is melted and golden. Season with pepper. Sprinkle with parsley. Serve.