As a caring dog owner, the first important dog parenting task you need to consider must be the healthy diet of your dog. Commercial dog food is most dog owner's option, but not all dogs can get used to the dog food with addictive to remain fresh. Buying organic dog food is an expensive investment for most families. Then homemade dog food is an economical and nutritious solution to many puppies' healthy diet. Here're five healthy dog food recipes with wholesome nutrition to make your puppy grow up healthier.
Homemade Chicken Dinner for Dogs
Ingredients: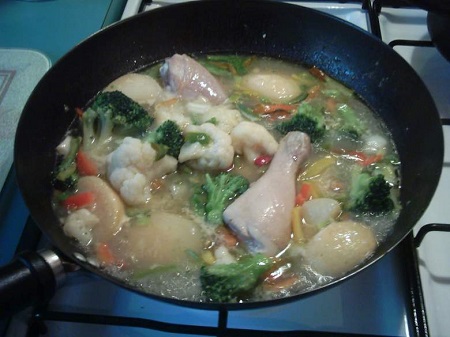 5 pounds chicken — chicken breast would be better
2 cups of red cabbage
2 apples (skinned)
2 cups of spinach
5 whole eggs, raw or cooked
2 tablespoons olive oil
Directions:
Chop up the chicken and boil in a suitable sized pot.
Reduce to a simmer and add the cabbage, spinach, and apples, diced up.
Simmer until the chicken finishes cooking.
Remove pot from stove, let cool, then add the eggs and olive oil and stir.
This batch is suitable for several feedings. Two and a half cups is usually good for a large dog around 60-75 pounds, if you're feeding them twice a day. Keep leftovers in the refrigerator in an airtight container for up to five days. It would be best if you vacuum-pack them.
Beef Stew for Dogs
Ingredients: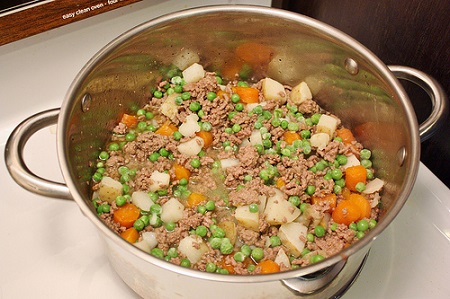 1 pound of beef stew meat
1 small sweet potato
1/2 cup of carrots, diced
1/2 cup of green beans, diced
1/2 cup of flour
1/2 cup of water or organic vegetable oil, plus 1 tablespoon of vegetable oil for frying
Directions:
Cook the sweet potato in a microwave for 5 to 8 minutes until firm but tender. Set aside.
Slice the stew pieces into smaller chunks, about the size of a nickel.
Cook the stew pieces in a tablespoon of vegetable oil over medium heat for 10-15 minutes or until well-done.
Remove the beef chunks from the pan, reserving the drippings.
Dice the sweet potato.
Heat the drippings over medium-low heat. Slowly add flour and water into the dripping while whisking to create a thick gravy.
Add the meat, sweet potato, carrots, and green beans into the gravy and stir to coat.
Cook until the carrots are tender – about 10 minutes.
Serve cool.
Store remaining stew in the fridge for up to five days.
Healthy Dog Food
Ingredients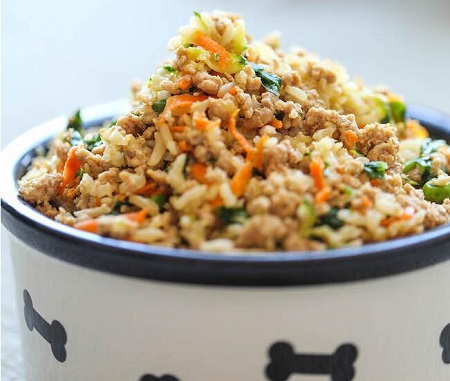 1 1/2 cups brown rice
1 tablespoon olive oil
3 pounds ground turkey
3 cups baby spinach, chopped
2 carrots, shredded
1 zucchini, shredded
1/2 cup peas, canned or frozen
Directions
In a large saucepan of 3 cups water, cook rice according to package instructions; set aside.
Heat olive oil in a large stockpot or Dutch oven over medium heat. Add ground turkey and cook until browned, about 3-5 minutes, making sure to crumble the turkey as it cooks.
Stir in spinach, carrots, zucchini, peas and brown rice until the spinach has wilted and the mixture is heated through, about 3-5 minutes.
Let cool completely.
Dog Biscuit Recipe
Ingredients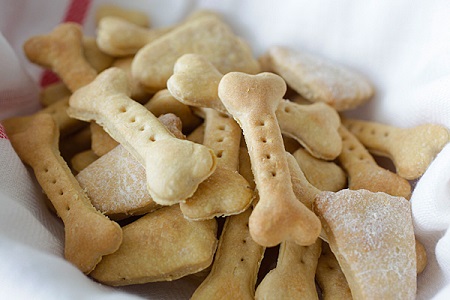 2 cups of flour (white or wheat, if your pup has no wheat allergies)
1 cup of rolled oats
1/3 cup of smooth peanut butter
1 tablespoon of honey
1/2 tablespoon of fish oil
1 1/2 cups of water
Directions
Preheat the oven to 350 degrees Fahrenheit.
Mix the flour and oats together in a large mixing bowl. Pour in one cup of water and blend until smooth. Add in the peanut butter, honey, and fish oil and mix until all the ingredients are well blended.
Slowly add the water until the mixture has a thick and doughy consistency.
Lightly flour a cooking surface. Roll the dough onto the cooking surface to create a 1/4-inch-thick sheet.
Use a cookie cutter to create shapes. Place the cookies onto a baking sheet and bake for 40 minutes.
Allow cooling completely before feeding.
Fruit and Vegetable Strips
Ingredients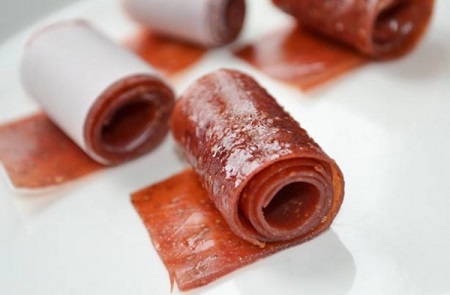 1 small sweet potato
1 medium banana
1 cup carrots, minced
1/2 cup unsweetened organic applesauce
2 cups of whole wheat flour (white if your dog has allergies)
1 cup of rolled oats
1/3 cup of water
Directions
Cook the sweet potato in the microwave for 8 to 10 minutes, or until the insides are soft. Set aside and allow to cool.
Preheat the oven to 350 degrees Fahrenheit.
Mash the banana and sweet potato in a large mixing bowl with a hand masher until smooth. Add in the carrots, flour, and oats. Slowly add in the applesauce and water while mixing.
The ingredients will form a soft dough. Roll the dough on to a lightly floured surface until the dough is 1/8 inch thick.
Cut the dough into strips.
Cook on a baking sheet for 25 minutes.
Store leftover strips in the fridge for up to two weeks.
If you worry that the oven may overheat the fruits and vegetables, choose a food dehydrator to remove the moisture of fruits and veggies.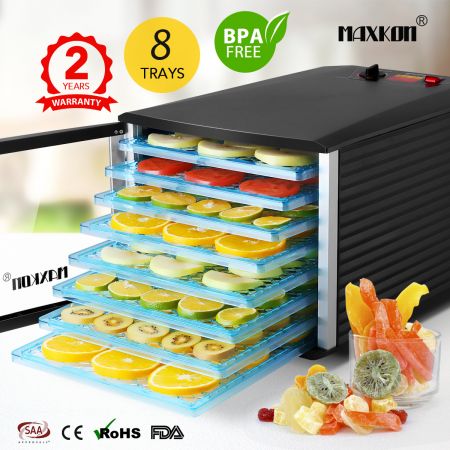 Although many dogs can get used to different dog food treats, you still need to consult your vet about the DIY dog food recipes before feeding them. Asking for more feeding suggestions would be better so that you can create more wholesome recipes on your own!