When we celebrate Christmas, what are we celebrating for? For the birth of Jesus Christ? For the big day to gather people together? Or only for a perfect chance to receive gifts? Whatever the reason is, there's one fixed celebration reflected through Christmas menus. After the one-year hard work, people would like to reward themselves with food and drink on a special event. Now, CrazySales wishes you and your family to have a memorable Christmas, with three Christmas recipes to treat your stomach.
Breakfast: Cranberry Orange Nut Bread
"Gifts under the Christmas tree aren't the only ones to wake you up in the morning."
Besides gifts left by Santa, a tantalizing aroma from mommy's oven can wake you up from sweet dreams. According to nutritionists, a nutritious breakfast must consist of starch, vitamin and protein. This menu can fully satisfy the necessary nutrition and your taste buds.
Ingredients:
2 cups flour
1/2 teaspoon baking powder
1/2 teaspoon baking soda
1/2 teaspoon salt
1 cup chopped fresh cranberries
3/4 cup chopped walnuts
3/4 cup orange juice
3/4 cup granulated sugar
1/4 cup butter, melted
1 egg, beaten
1 tablespoon orange zest
Directions:
The whole making process can be divided into four steps: combining dry ingredients, combining wet ingredients, mix wet and dry ingredients and bake.
1) Pre-heat the oven to 350°F.
2) Combine dry ingredients: whisk the flour, baking powder, baking soda, salt in a bowl. Then put the chopped cranberries and walnuts into the bowl to make them coated with the mixture.
3) Combine wet ingredients: mix orange juice, sugar, melted butter, egg and orange zest together in another bowl as stand-by.
4) Add wet mixture into dry: pour the mixed liquid into the flour bowl and fold until just blended.
5) Bake: Put the dough into a well-buttered loaf pan. Bake at 350°F for 50 to 55 minutes.
6) Serve and Enjoy.
The result is tangy and fluffy, perfect to match with a cup of milk or coffee in the morning. The fluffy taste mixed with fruits' fresh flavor can cheer you up, and crispy nuts bring you a vivid morning.
---
Lunch: Basil Pesto Chicken Pasta with Sundried Tomatoes and Broccoli
​"Christmas lunch is somehow an appetizer before the feast at night."
That's why we won't recommend those cuisines with tedious cooking processes. Chicken pasta with broccoli and tomatoes can cover complete nutrition.
Ingredients:
2 cups dried orecchiette pasta
1/4 cup sundried tomatoes in olive oil, julienned
2 garlic cloves, thinly sliced
1/2 large onion, diced
1/2 teaspoon crushed red pepper flakes (if you don't like spice, 1/4 teaspoon would be better.)
1 chicken breast, cubed
4 tablespoons basil pesto (homemade or store-bought) – see note below
1 cup broccoli, blanched
1/2 teaspoon kosher salt
1/4 teaspoon ground black pepper
Directions:
1) Boil and cook pasta according to the instructions on the box. Once done, drain well and set aside.
2) Heat a large skillet to the level of medium-high heat, add sundried tomatoes, garlic slices, onions, and cut red pepper into flakes. Saute them for about 3-4 minutes, until fragrant comes out and onions get translucent.
3) Add cubed chicken and cook until it's cooked-through, for about 5-7 minutes.
4) Add the basil pesto and turn down the heat to medium-low. If the basil pesto is a little thick, add 1 tablespoon of water to the skillet.
5) Add broccoli and toss until all ingredients are coated in the pesto evenly.
6) Season with salt and pepper, and taste.
*Note: If you have no sundried tomatoes in hand, get a food dehydrator at home. Then you can have all sundried vegies and fruit in minutes.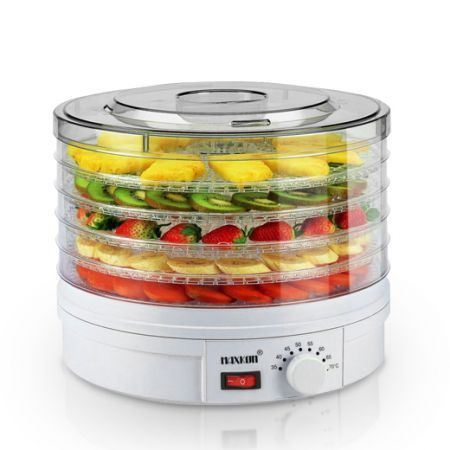 ---
Dinner: Brined Roast Turkey Crown & Confit Legs
"Christmas isn't complete without a turkey dish on table."
The meaning of a festival or event, is that we keep everything classic every year. Christmas trees, socks hanging for gifts, as well as turkey cuisines, as the classic symbols of Christmas, will never fade out in our mind.
This recipe is unique because it can help to get your turkey breast succulent, and the leg meat off the bone. It needs about at least four days ahead Christmas to prepare.
Ingredients:
5kg turkey.
500kg goose fat or duck fat
2 bay leaves
2 thyme sprigs
2 sage sprigs
1 onion, quartered
50g butter, softened
For the dry brine:
160g flaky sea salt
1 tablespoon black peppercorns, toasted
6 bay leaves, crumpled up
6 sage leaves, chopped
2 tablespoon soft light brown sugar
4 tablespoon lemon zest (about 6 lemons)
4 tablespoon orange zest (about 4 oranges)
Directions:
Four Days before Christmas
Make the brine by combining salt, peppercorns, bay, sage and sugar with a pestle and mortar. Stir through both zests and spoon roughly 1/ 3 into a large sealable bag and the rest in another bag to chill.
Cut and put the turkey legs and wings in the 1/3 brine bag and shake until the wings and legs are coated with brine, then leave them in the fridge.
Three Days before Christmas
The next day, heat the oven to 120 degrees, fan. Rinse the brine on the turkey wings and legs and pat dry. Put the duck fat in a roasting tin, heated for 5 mins, then add the turkey pieces (they should be submerged in the fat). Cook in the middle of the oven for four hours until the legs get tender. Leave cool and chill.
Christmas Eve
Cover the other parts of turkey in the remaining dry brine and chill in the fridge overnight.
On Christmas
In the morning, take the turkey out the fridge one hour before roasting, rinse off the brine and pat dry with kitchen paper. Take the legs, thighs and wings out the fridge and leave them aside. When they come to room temperature, put them on a baking tray awaiting to be reheated.
Heat oven to 190C/170C fan/gas 5 and line a large shallow roasting tin with foil. Set a wire rack on top, scatter the herbs and onion across and sit the turkey on top. Rub the butter all over the skin and season well. Roast, uncovered, for 40 mins, then cover with foil and cook for another 30 mins. Remove the foil, and cook for a final 15-20 mins. Transfer to a platter, cover with foil and leave to rest for at least 30 mins.
Meanwhile, reheat the legs and wings in the oven for 30 mins or until the skin has crisped up. Add to the platter with the other turkey parts
*Note: To test if the turkey is cooked, insert a skewer into the thickest part of the breast – the juices should be clear.