Mama's recipes are always the most delicious cuisines no matter how many delicacies we've tasted. Even when we live far away home, the taste still lingers in our mind as a symbol of missing our moms. Nevertheless, how often do we cook for them to leave a special flavour in their hearts? Since Mother's Day is approaching, it's time to show your love as well as cooking skills to treat your mommy's stomach, like she always did to you.
Here're five simple and tasty Mother's Day recipes with rich nutrition to fulfill your dinner recipes or brunch recipes on that day. It would be more delicious and precious if your love and effort were added.
All the recipes and videos' credit belong to Delish.
---
Slow Cooker Lemon-Garlic Chicken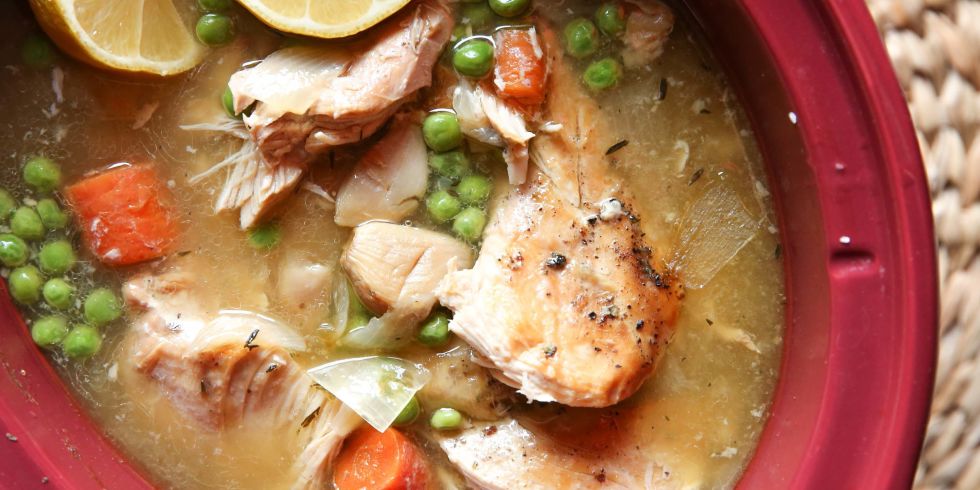 INGREDIENTS 5 Star Chef Slow Cooker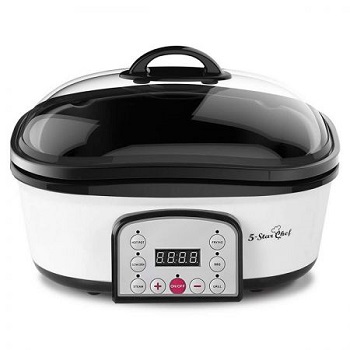 2 lb. boneless skinless chicken breasts
kosher salt
Freshly ground black pepper
2 large onions, diced
5 garlic cloves, minced
2 carrots, cut into 1" pieces
1 tbsp. sugar
2 lemons
4 sprigs fresh thyme
3 c. low-sodium chicken broth
1 c. frozen peas
DIRECTIONS
In a large skillet over high heat, sear chicken until golden brown, 2 minutes on each side. Season with salt and black pepper and place in slow cooker.
Add onions, garlic, carrots, sugar, zest and juice of 1 lemon, thyme, and chicken broth. Season with 1 tsp salt and 1/2 tsp black pepper. Cover with lid and cook on low for 6 to 7 hours, or on high for 3 to 4 hours.
Add peas and cover with lid until warmed through, 2 to 3 minutes. Add zest and juice of remaining lemon. Serve immediately.
---
INGREDIENTS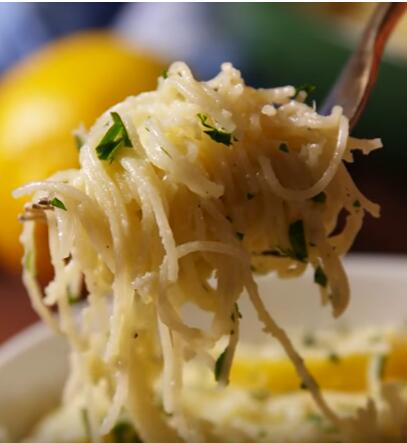 1 lb. angel hair pasta
1 tbsp. extra-virgin olive oil
2 tbsp. unsalted butter
2 tbsp. flour
3 lemons, thinly sliced and seeded
3 garlic cloves, minced
3/4 c. chicken broth
DIRECTIONS
Bring a large pot of water to a boil and generously season with salt. Cook pasta according to al dente package directions. Drain.
In a large skillet over low heat add 2 tablespoons olive oil and 2 tablespoons butter.
When butter starts to bubble add garlic and lemons. Season with salt and pepper and cook until lemons are softened, about 2-3 minutes.
Whisk in flour and cook for 1 minute.
Add chicken broth and whisk until smooth.
Add cheeses while constantly whisking.
Add cooked angel hair and toss in sauce with parsley.
Serve immediately.
---
INGREDIENTS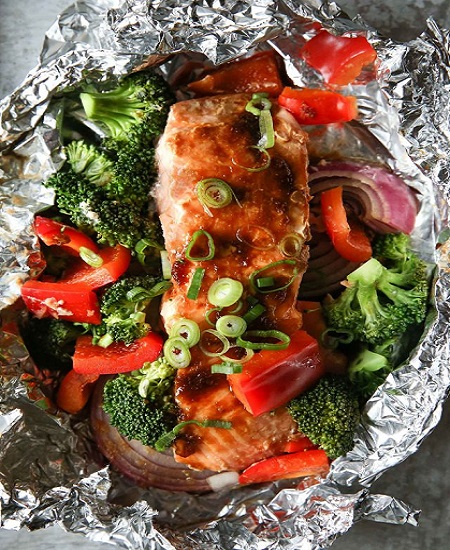 1/4 c. soy sauce
1 ginger, grated
2 garlic cloves, grated
1 tbsp. honey
2 red onions, cut into 1/2" half moons
4 salmon pieces, about 2 lbs
2 red bell peppers, cut into 1" dice
1 head broccoli, cut into florets
2 scallions, chopped
DIRECTIONS
Preheat oven 375º. In a small bowl, combine soy sauce, ginger, garlic, and honey.
Prepare 12×18" heavy duty foil pieces. Place handful of onions and salmon skin side down in the center of the foil and generously spoon sauce over the salmon. Divide bell peppers and broccoli to surround the salmon, close foil over it, and crimp each edge tightly. Repeat for remaining foil packets.
Place foil packets on a heavy sheet pan and bake for 20 minutes—carefully open foil packets as steam will escape. Garnish with scallions and serve immediately.
---
INGREDIENTS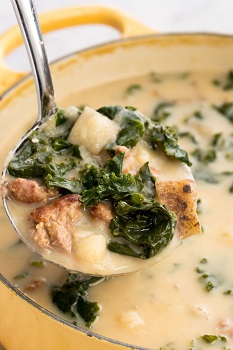 lb. Hot Italian sausage, casings removed
1 large onion, chopped
3 cloves garlic, minced
kosher salt
Freshly ground black pepper
6 c. low-sodium chicken broth
4 large russet potatoes, diced
1 bunch curly kale, leaves stripped and chopped
3/4 c. heavy cream
4 slices cooked bacon, chopped
1/4 freshly grated Parmesan, for serving
DIRECTIONS
In a large pot over medium heat, cook sausage, breaking up with the back of a wooden spoon, until browned and no longer pink, 5 to 7 minutes. Transfer to a plate to drain.
Add onion to pot and let cook until soft, 5 minutes, then add garlic and cook until fragrant, 1 minute more. Season with salt and pepper. Add chicken broth and potatoes and cook until potatoes are tender, 23 to 25 minutes.
Stir in kale and let cook until leaves are tender and bright green, 3 minutes, then stir in heavy cream, sausage, and bacon and simmer 5 minutes more.
Season with pepper, garnish with Parm, and serve.
Mommy will LOVE this friggin' soup with a rich, savory broth and creamy texture flavour lingering around her toungue.
---
INGREDIENTS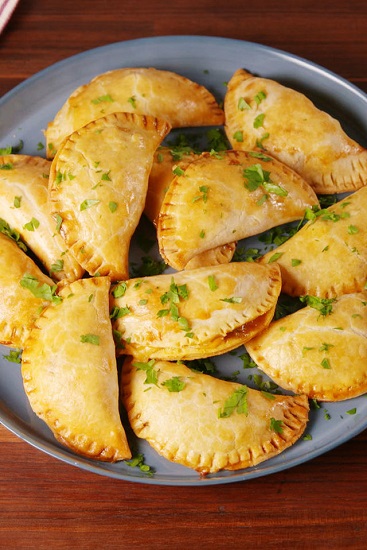 1 tbsp. extra-virgin olive oil
1/2 onion, chopped
2 cloves garlic, minced
1/2 lb. ground beef
1 tbsp. tomato paste
1/2 tsp. oregano
1/2 tsp. cumin
1/2 tsp. paprika
kosher salt
Freshly ground black pepper
1/2 c. chopped tomatoes, drained
1/2 c. chopped pickled jalapeños
flour, for rolling
2 packages refrigerated pie crust dough
1 c. shredded Cheddar
1 c. Shredded Monterey Jack
Egg wash
Freshly chopped cilantro, for garnish
sour cream, for dipping
DIRECTIONS
Preheat oven to 400° and line two large baking sheets with parchment paper.
In a large skillet over medium heat, heat oil. Add onion and cook until tender, about 5 minutes, then add garlic and cook until fragrant, about 1 minute. Add ground beef and cook until no longer pink, about 6 minutes. Drain fat.
Return heat to medium, then stir tomato paste into beef. Add oregano, cumin and paprika, then season with salt and pepper. Add tomatoes and jalapeños and cook until the flavors are incorporated and the juice of the tomatoes has mostly reduced, about 3 minutes. Remove from heat and let cool slightly.
Onto a lightly floured surface, roll out pie crust. Using a small bowl or a 3" biscuit cutter, cut out small circles. Add cooked ground beef to one side of each pie crust round then top with cheddar and Monterey jack. Fold the pie crust over the ground beef then press a fork around the edges to seal the pie crust. Repeat with remaining ingredients then brush all empanadas with egg wash.
Bake until the crust is golden, about 25 minutes.
Garnish with cilantro and serve with sour cream.
---
There's nothing sweetier than a DIY meal along with an elegant gift for your mom on Mother's Day. Here're Mother's Day gift ideas for references:Mother's Day Gifts Your Mom Will Actually Love