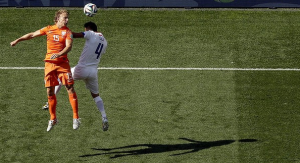 It is with much sadness in our hearts and bags under our eyes that we say goodbye to Spain and Australia from the FIFA World Cup 2014. We left our nest and tried our best, but it was not to be. Who would have thought we'd go out in such great company?
If you are now having trouble deciding who to root for, have a peruse:
Five tips for picking a winning team:
Just because you like a country, doesn't mean its going to win. Everyone loves chocolate from Belgium, that doesn't mean they can play soccer better than other countries.

Stand out from the crowd. A lot of people are picking Brazil as their favourite to win, but why not go against the masses and have a different opinion?

Don't let the recent past sway you. Spain were the champions last time, they weren't this time, but they could have been! The future isn't determined 100% by past events!

If you're seeing patterns in numbers of goals and wins, you should get some more sleep. Every game is different and cannot be predicted. It might look like a pattern is forming, but 99.9% of the time, its not.

Luck plays its part. Other than the level of skill a team has, the luck of the draw, the referees and the line ups can also play a contributing factor.
We hope you can use these tips to pick a new team to support. Next time Australia will win, but for now, let's focus on the task at hand.
Good luck from all of us at CrazySales!