In addition to its religious significance, Easter in Australia is enjoyed as a four-day holiday weekend starting on Good Friday and ending on Easter Monday. This extra-long weekend is an opportunity for Australians to take a mini-holiday, or get together with family and friends. Easter often coincides with school holidays, so many people with school aged children incorporate Easter into a longer family holiday. Easter is the busiest time for domestic air travel in Australia, and a very popular time for gatherings such as weddings and christenings. What do you have planned for the upcoming holiday?
The main day of celebration of families of Anglo-Irish backgrounds is Easter Sunday. Some people go to church services and have hot cross buns for breakfast. These are a sweet fruit bun, which may have a cross on top. Children exchange Easter eggs, which are usually made of chocolate.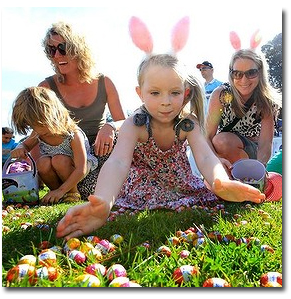 Some are now made from sugar and have little toys inside. The chocolate eggs are available in an egg shape, from tiny little ones to giant ones. Some chocolate eggs are also in the shape of cheeky looking rabbits.
Many families arrange for an Easter hunt in their homes or gardens to see who can find the most eggs on Easter Sunday morning. They then share a meal with their relatives. Traditionally this has consisted of roast lamb, beef or chicken with roasted vegetables like potatoes, carrots, or pumpkin.
---
Check out this interesting lamb recipe!
PARMESAN-CRUSTED FILLET OF LAMB
Who doesn't love a rack of lamb? But sometimes it can seem like there's more bone and fat than meat. This recipe gives you pure meat – essentially the fillet of the lamb, otherwise known as cannon. It is a glorious cut that you can get from your butcher or you can cut your own as I've done here.
Just take a rack of lamb and with a very sharp knife, trim it of bone, fat and sinew until your left with a wonderful barrel of meaty loveliness.
To make the crust, simply whizz Parmesan, breadcrumbs, thyme, salt and pepper together in a food processor. Dead easy!
This goes brilliantly with potato salad and green salad with raw sliced peppers.
1 rack of lamb, comprising 8 cutlets
For the crust:
1 tbsp plain flour

1 egg, beaten

100g Parmesan

2 slices wholemeal bread

1 tsp dried or fresh thyme

Salt and freshly ground black pepper
1. Trim the lamb meat of its bone, sinew and fat (or buy a ready-butchered lamb fillet from the supermarket).
2. Put all the ingredients for the crust into a food processor and whiz into fine crumbs.
3. Toss the lamb in the flour, then douse in the beaten egg. Now roll in the Parmesan breadcrumbs and press down so that the cannon is completely coated.
4. Preheat the oven to 180C. In a large frying pan, heat the oil to medium, then cook the lamb on all sides until golden brown, taking care not to burn. Transfer to an oven-proof dish or pan and put in the oven for 10-12 mins. You want to serve it slightly pink.
5. Remove and rest for 5 mins before carving into thick slices and serving with potato salad and green salad.